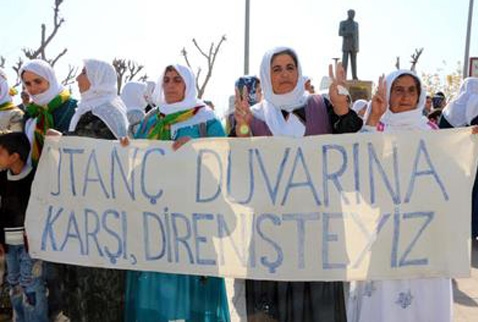 By Manolis Kostidis – Ankara
Turkey is building a bridge along its border with Syria, causing concern amongst Kurds and political analysts alike. The mayor of Nusaybin began a hunger strike to stop the project.
The wall will be built near the area o Nusaybin and will be 7 kilometers long. Officially, it will be put up to combat illegal trade. In an area 950 km long between Syria and Turkey perhaps the wall will be considered a simple action.
However, only Kurds reside in the north and south of this region. Columnist Hasan Cemal says "all these years despite problems with the PKK Turkey has never built a wall. Why should it do it now? Because Ankara is bothered by the presence of Kurds in Syria. What is the meaning of the wall?
Mayor Ayse Gokkan began a hunger strike in front of the barbed wire on the border of Syria and Turkey in an attempt to stop the wall being put up.
She says that Ankara isn't building a wall in Antioch, the area of Ceylanpinar or elsewhere where thousands of armed Islamist rebels pass though daily.
Speculation is mounting amongst Kurds that Ankara's main aim is to split up the Kurdish areas. "They don't just want to split Kurds between Syria and Turkey but all the peoples living in the area; the area of Rojava (Kurdish controlled area of Syria). Kurds are under attack on a daily basis from armed Islamist rebels who come into the country unhindered as Turkey turns a blind eye to this" Gokkan tells journalist Hasan Jemal in an interview.
The Mayor of Nusaybin sends a message to Erdogan stressing "the PM had called the wall Israel put up in Palestine a wall of shame. This wall here will be a wall of pride"?
Rojava, which is known as Syrian Kurdistan is an area in northern Syria where battles between Islamist rebels and Kurds take place daily. Kurds claim Islamist rebels have the support of Turkey. Ankara rejects such claims.