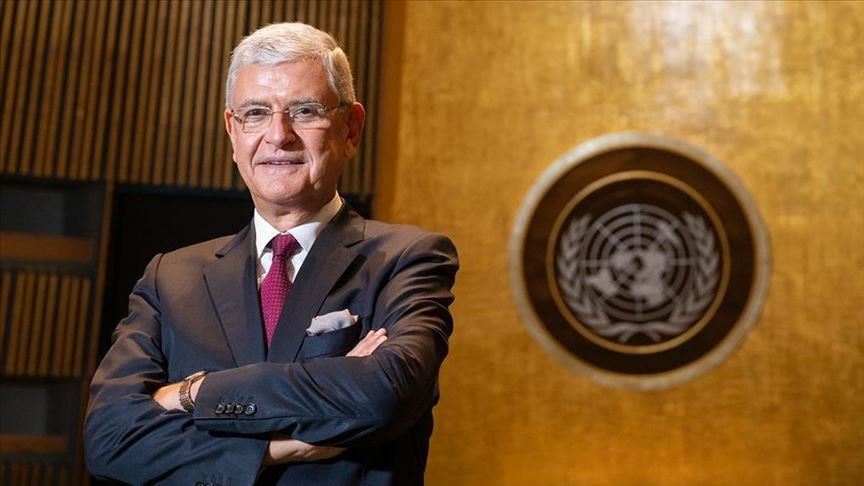 Turkish Ambassador Volkan Bozkir officially took over the presidency of the United Nations General Assembly on Tuesday for its 75th session.
"I am proud of my country, my nation and my person. I will work to present an effective and special Presidency", Bozkir wrote on Twitter.
Bozkir is the first Turk to lead the General Assembly and will hold the post for one year.
At the end of the 74th Session of the UN General Assembly, at the UN headquarters, he said that the group has urgent priorities, including the coronavirus pandemic.
"Our masks remind us of the very serious threat we face. They remind us of the lives we have lost and the challenges we have to overcome. "They remind us that we are together in this", Bozkir said.
Bozkir said critics of multilateralism have been stronger since the onset of the disease and the pandemic has been used to justify unilateral steps and weaken the international rules-based system.
"The need for international co-operation has been challenged. These criticisms are not unfounded, but their conclusions are wrong. Make no mistake! No state can fight this pandemic alone. "Social exclusion will not help on an international level".
"Unilateralism will only strengthen the pandemic. It will take us further away from our common goal", Bozkir pointed out, calling for responsibility for the strengthening of faith in multilateral co-operation and international institutions with the UN at the center.
Bozkir was first elected to the Turkish Parliament in 2011, after nearly 40 years of service abroad, including positions in Germany, New York, Baghdad and Romania.
In the 2000s, Bozkir was Turkey's Ambassador to the European Union and served as Deputy Secretary-General and Secretary-General for EU Affairs at the Ministry of Foreign Affairs.
He also served as Turkey's Minister for EU Affairs and Chief Negotiator for EU Accession between 2014 and 2016./ibna