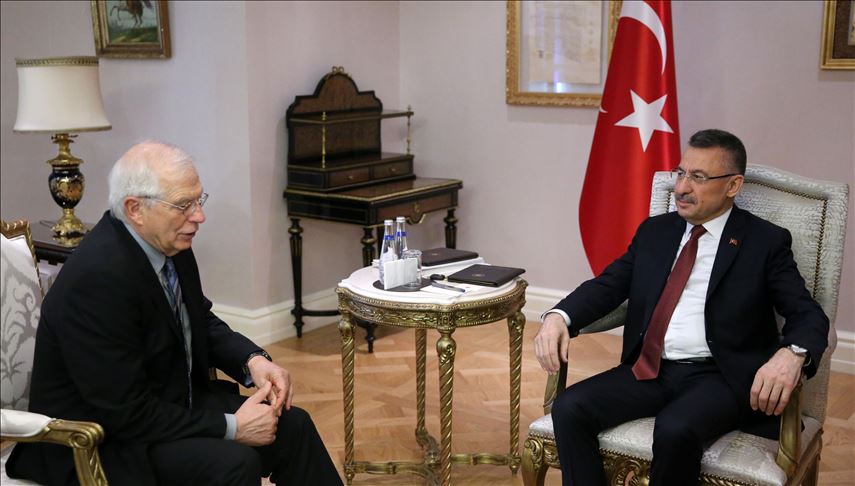 Turkish Vice President Fuat Oktay welcomed to the Cankaya Palace in Ankara on Wednesday the EU High Representative for Foreign Affairs and Security Policy Josep Borrell and the European officials accompanying him. The two delegations, according to Turkish sources, discussed recent developments in Syria, the humanitarian crisis in Idlib and the situation regarding illegal immigrants.
The meeting was held behind closed doors, with sources reporting that the 2016 EU-Turkey Joint Declaration was discussed, including issues such as immigrants, visa-free travel for Turkish citizens, the customs union and the EU accession negotiations with Turkey.
During the meeting it was stressed by the Turkish side that the EU should fulfill its obligations and that there should be a "fair share of responsibility" between the parties.
In the agreement of 16 March 2016, the EU had pledged for a visa-free travel for Turkish citizens along with financial support, resettlement and revision of the customs union.
In addition to Oktay and Borrell, the meeting was also attended by Turkish Deputy Foreign Minister and Director of European Affairs Faruk Kaymakci; Director-General for Euro-Turkish Relations at the Turkish Foreign Ministry, Ambassador Basak Turkoglu; and Chief of the Turkish Deputy Foreign Minister Abdullah Ayaz. Representing the EU, Commissioner responsible for Crisis Management Janez Lenarcic and the Head of the EU Delegation to Turkey Christian Berger also participated in the discussions. /ibna