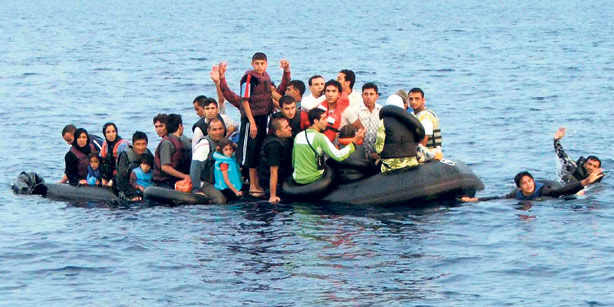 By Manolis Kostidis – Ankara
Turkish Coast Guard (Sahil Güvenlik) is giving a huge battle in an effort to stop the tide of illegal immigrants trying to cross the Aegean to arrive to Greece and Italy.
In the period between September 5-8 alone, according to the official announcement, in 11 operations, 685 illegal immigrants were spotted and rescued from the waters of the Aegean and are being detained in a place of hospitality. A slaver was arrested, while a man was found dead.
The wave of immigrants is growing rapidly because of the war in Syria and the action of jihadists in northern Iraq and eastern Syria.
In 2013, the turkish Coast Guard in 231 operations identified 6357 immigrants, who they prevented passage to the greek islands. They also arrested 71 traffickers.
In the first seven months of 2014 numbers surpass all records, as during 331 operations they spotted 8107 illegal immigrants and arrested 46 traffickers.
Most of the arrested illegal immigrants are citizens of Syria and Afghanistan.
Ankara in 2014 signed with the EU the readmission agreement.
Under this agreement in the event that Greece or any European country, identify illegal immigrants who have entered the country from the turkish coast, Ankara will accept their return to deport them to their country of origin. The effectiveness of the measure and its application remains unknown.
The turkish authorities have announced that one million refugees from Syria are being hosted in the southeastern provinces of the country. There are fears for an even greater increase of immigration towards Europe, as long as the fighting in Syria go on.