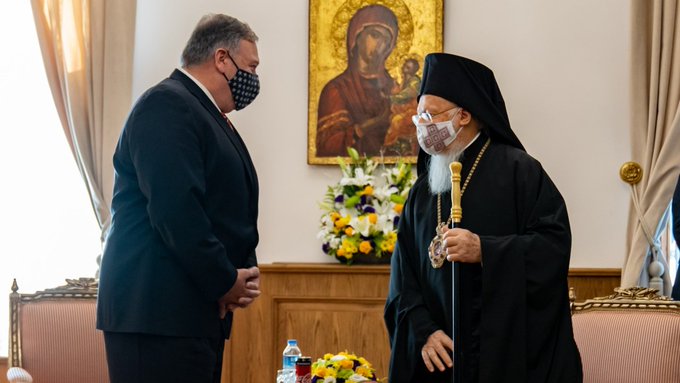 US Secretary of State Mike Pompeo arrived in Istanbul on Monday afternoon, where he met with Ecumenical Patriarch Bartholomew today, on the second stop of his tour of Europe and the Middle East.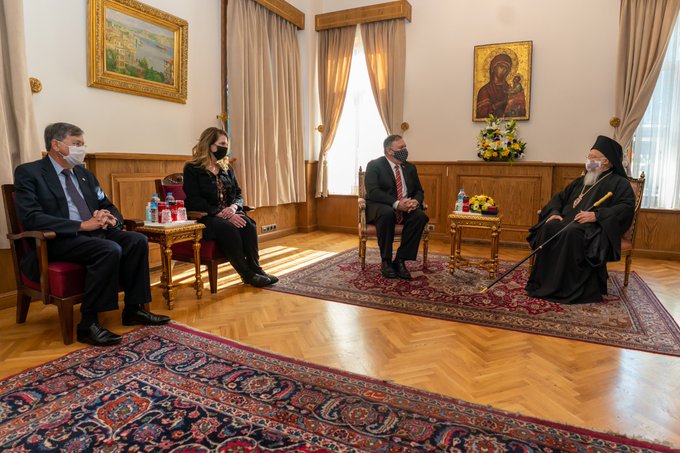 The one-on-one meeting between Ecumenical Patriarch Bartholomew and Mike Pompeo lasted about an hour, after which the US Secretary of State was given a tour of St. George's Patriarchal Cathedral.
Although no details were released on what was discussed between the two men, the issue of religious freedom as well as issues related to the Patriarchate are considered to have been discussed in the private meeting.
In a Twitter post, the US Secretary of State noted that he was honored to meet with His Holiness Ecumenical Patriarch Bartholomew I and to visit the Patriarchal Church of St. George. Continuing, Mike Pompeo stressed that the Ecumenical Patriarchate, as the leader of the Orthodox world, is a key partner in the effort to support religious freedom in the world.
Honored to meet with His All-Holiness, Ecumenical Patriarch Bartholomew I, and to visit the Patriarchal Church of St. George today. As leader of the Orthodox world, the Ecumenical Patriarchate is a key partner as we continue to champion religious freedom around the globe. pic.twitter.com/1u96nPZwgV

— Secretary Pompeo (@SecPompeo) November 17, 2020
Earlier, the Greek Prime Minister, Kyriakos Mitsotakis, had a telephone conversation with the Ecumenical Patriarch Mr. Bartholomew./ibna