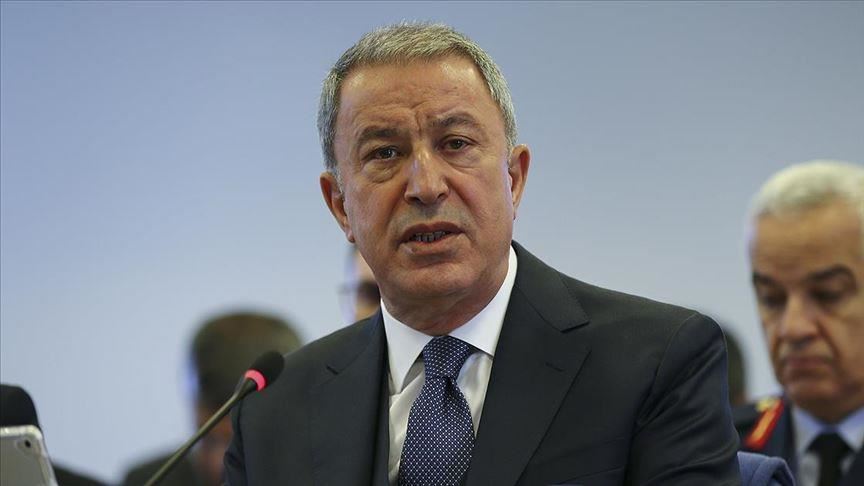 Turkey is calling its neighbors in the Eastern Mediterranean and the Aegean to engage in dialogue, Turkish National Defense Minister Hulusi Akar said today.
Speaking at the Ateş Serbest-2020 military operation at the Shooting Range and Exercise Field in Ankara, General Nahit Şenoğul said regarding developments in the Aegean and the Eastern Mediterranean that "in all honesty, we vote for meetings, talks, good neighborly relations, international law and agreement and to discuss and settle our problems in this context. But suddenly, the issue is transferred to international organizations, some attacks are made through the press, there are provocations, they do not see any of those. They are trying to present as an attack, and frame the completely scientific and technical research and work carried out by the state of the Republic of Turkey as an act of provocation".
"Kastelorizo, ​​with an area of ​​10 square kilometers, located at a distance of 1,950 meters from Turkey and 580 kilometers from Greece, can not have an Exclusive Economic Zone of 40,000 square kilometers, this can not be accepted", said Akar, stressing that "No, they come out in front of us and like a choir say that we create tensions and take on provocations. We are in the right, we are strong. As much as we are in favor of dialogue and a political solution, at the same time we have repeatedly stated that we will not allow our rights to be violated, that we will not allow any faits accomplis. This should be understood. Therefore, we call for dialogue with our neighbors and other organizations and institutions. Let's meet, discuss, talk and resolve these issues within the rules. This is our wish. Apart from that, it is a futile attempt for third parties to go out of their way and their league, to impose certain rules that are not in line with logic and laws, or to expect for these rules to be accepted by us".
"Turkey, which is a guarantor force in Cyprus, has fulfilled its obligations until today and will continue to fulfill them with the same sensitivity from now on", the Minister said.
"The Cyprus issue is our national cause. On the one hand, you will try to design the maritime jurisdictions as you wish, and on the other hand, the Turkish Cypriots will be ignored and you will ask for a solution. This is the definition of the unsolvable. If you want a political solution, a suitable climate, you will accept the existence of our Turkish Cypriot brothers, you will find the right by following common sense in the issue of maritime jurisdiction and not your usual tricks", said the Minister of National Defense.
Akar also referred to Azerbaijan's operation to liberate its occupied territories following Armenian attacks on civilian targets in Azerbaijan.
"We have stated at every level, starting from the top tier, the President of our Republic, that we fully support the just struggle of Azerbaijan. As a state of the Republic of Turkey and a Turkish Nation, we have said that we are on the side of our Azeri brothers and will continue to be". /ibna