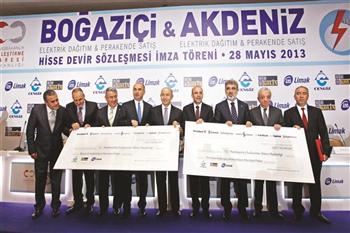 Turkey has transferred the operation of two power grids for $2.5 billion and now seeks to complete the privatization of a $13 billion-worth portfolio by the end of the year
A joint venture of three Turkish companies has taken over the operational rights of two major electricity grids, putting $2.5 billion in the state's coffers.
The venture of Cengiz-Kolin-Limak, which is also part of the five-company consortium that won the tender for the third airport to be built in Istanbul, signed the contract that gives the operational rights of Istanbul's European side grid, Boğaziçi Elektrik, and the Mediterranean region's grid, Akdeniz Elektrik.
The group paid $1 billion of the total amount in cash to the Privatization Administration (ÖİB) yesterday, ÖİB acting Chairman Ahmet Aksu said at the transfer contract signing ceremony.