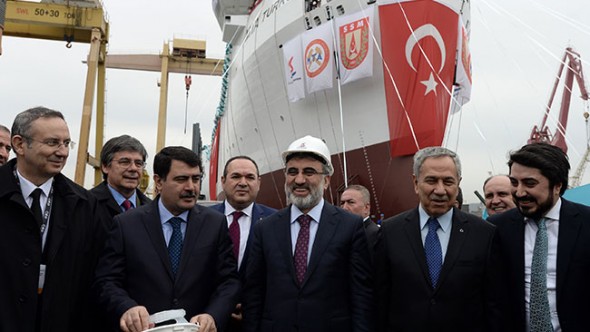 Ankara, March 30, 2015/ Independent Balkan News Agency
By Manolis Kostidis
After the research vessel Barbaros that was conducting research inside the Exclusive Economic Zone (EEZ) of the Republic of Cyprus, Turkey acquired a more modern research vessel built in Istanbul's Tuzla shipyards. The new Turkey's cutting-edge ship for underwater research is called Turkuaz.
Its construction reached EUR 100 million. The ship has a length of 86 meters, width of 23 meters, a displacement of 4,500 tons and its deck has a helicopter landing platform. It has the ability to conduct two- and three-dimensional imaging seabed analyses, sampling and data analysis.
Energy Minister Taner Yildiz, who participated in the launching ceremony of Turkuaz, revealed the country's intentions and said that "Turkuaz will not only conduct research in our own seas, but will continue its work with countries with which we develop our relations". Yildiz claimed that in the future Turkey will also build a mining platform.