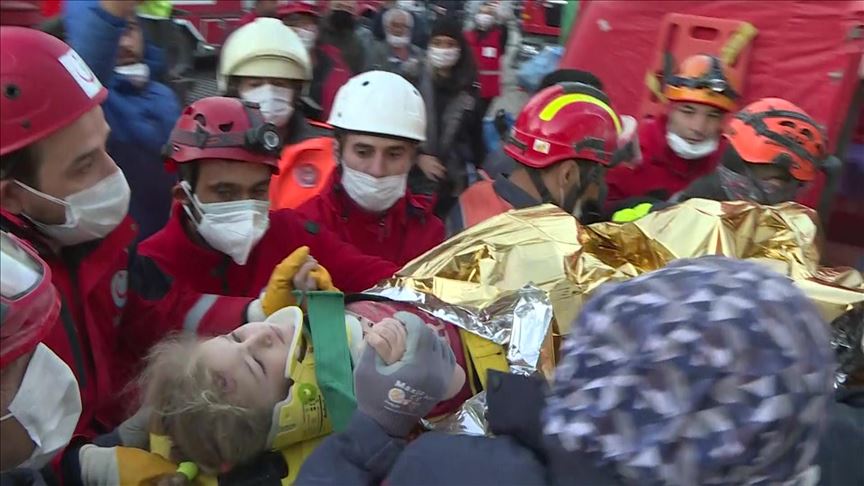 An injured three-year-old girl was rescued on Monday, days after a magnitude 6.7 earthquake struck off the coast of Turkey in the Eastern Aegean.
Elif Perincek was pulled from the rubble almost 65 hours after the quake hit the Bayrakli area of ​​the western province of Izmir.
Elif was the 106th person to be rescued from the rubble and taken to hospital.
Her mother and her 3 siblings were also rescued 23 hours after Friday's quake. Elif's mother, Seher Dereli Perincek, and her 10-year-old twin brothers, Ezel and Elzem Perincek, as well as her seven-year-old brother, Umut Perincek, were pulled from the rubble. However, Umut lost his life while her mother and two other brothers were hospitalized.
According to SAKOM, have 79 people lost their lives. 743 of the 962 citizens who were injured have been discharged from the hospital, while the treatment of 219 citizens continues.
Search and rescue operations are currently focused on 8 buildings in Izmir.
As of Friday, October 30, after the 6.7 magnitude earthquake that occurred off the Aegean Sea, a total of 1148 aftershocks have been recorded, with 43 of them stronger than magnitude 4 on the Richter scale.
In order to meet the urgent need for accommodation of the homeless, 3,545 tents, 57 general purpose tents, 24,382 blankets, 13,280 beds, 5,500 sleeping sets, 2,657 kitchen sets and 4 shower cabins have been dispatched to the area by the AFAD and the Turkish Red Crescent.
There are 1,864 special rescue and rehabilitation units in Izmir, including 850 in the Aşık Veysel recreation area, 120 in the Ege University area, 210 in the Bornova Eskişehir stadium, 194 in the Buca racecourse, 152 in the Buca stadium, 90 in the Sığacı area and 248 in various points. So far, 2,038 tents have been set up.
The financial support was also immediate, as 24 million pounds have been raised. More specifically, each household whose members can not buy their belongings in the buildings that were destroyed will receive 30,000 lira. 13,000 will be allocated to every owner of a damaged and demolished property and excessively damaged property, while 5,000 will be given for relocation and rent for tenants in the same situation. According to the damage assessment studies carried out in Seferihisar, the Central Administration will provide assistance depending on the situation of the traders who suffered losses in the coastal area. /ibna