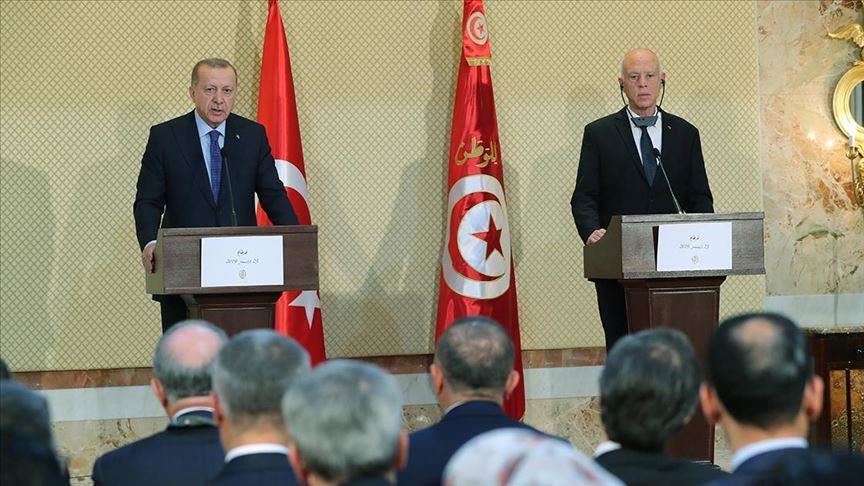 Turkish President Recep Tayyip Erdogan visited Tunisia on Wednesday, where he met with his Tunisian counterpart Kais Saied and had a chance to discuss on their bilateral co-operation.
Kais Saied was elected President of Tunisia as an independent candidate back in the second round of the Presidential elections held on October 13, 2019 and is a social conservative, in support of the separation between religion and politics.
On Monday, December 23, Saied welcomed the Libyan Supreme Council representatives for cities and tribes to Carthage Palace to explore opportunities to terminate the crisis.
The meeting was held, according to the Tunisian Presidency, at the call of the Libyan Supreme Council on Kais Saied to urgently intervene to stop the bloodshed and to reunite the Libyan people.
The Tunisian President is seen as keeping equal distance from the protagonists of the Libyan crisis, aware of the country's socio-political situation, and has declared his readiness to find a solution to the Libyan crisis, away from solutions that involve any external interventions or military options.
This is what the Turkish President believes as well, as he stated during a joint press conference given by the two leaders that Tunisia could contribute in promoting stability in Libya.
Erdogan also added that during his visit him and Saied discussed the steps needed to launch a political process by having all Libyans engaging in the dialogue.
According to Saied, during his meeting with his Turkish counterpart, the agreements between Libya and Turkey were not discussed, as he said these agreements concerned the two countries and did not include Tunisia.
Later in his statements, Erdogan stressed that Turkey had never sent troops without an invitation. "If there is an invitation, we will think about it", he added, stating that he would be talking only with the UN-recognized Libyan government.
In addition, the Turkish President said that it was inconceivable that countries such as Tunisia, Algeria and Qatar are not involved in the Berlin process, as they are well aware of the socio-political structure of Libya.
As for Greece, commenting indirectly on the visit of the Greek Foreign Minister to Libya, he said that "Greece has nothing to do with Libya".
The two leaders also discussed bilateral relations in addition to the Libyan issue, with the Tunisian President expressing hope that economic partnership with Turkey would be strengthened, especially after the formation of the new government, which is expected to be announced this week.
In addition to economic co-operation, discussions also focused on military co-operation, healthcare, agriculture and trade, as, although bilateral trade stands at $ 1.1 billion, it still remains below the expectations of both countries. /ibna