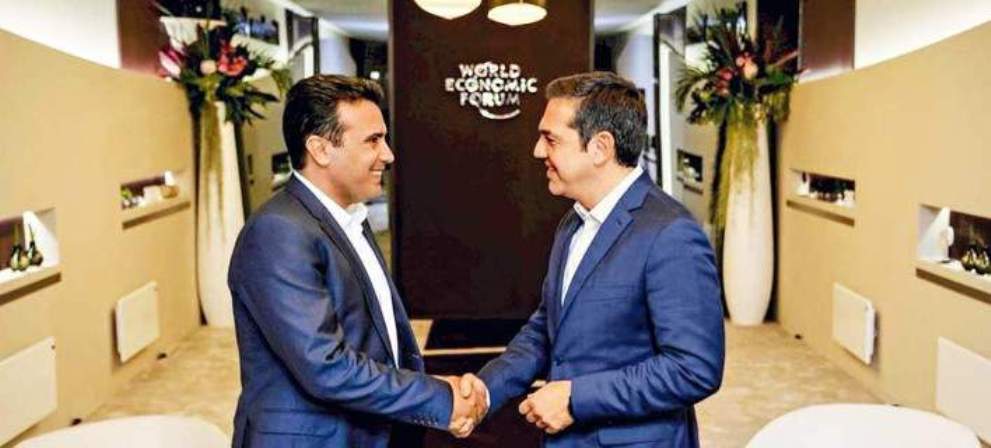 Alexis Tsipras' meeting with Zoran Zaev, on the sidelines of the works of the World Economic Forum in Davos, Switzerland, rekindled the optimism for a solution to the bilateral dispute between Greece and fYROMacedonia on the nomenclature.
The messages from both sides are positive to say the least, as the circle of the political forces that want a solution are widening, albeit with minor variations in the nomenclature.
In Athens, the Greek prime minister briefed both president Prokopis Pavlopoulos and the political leaders, except from Nikos Michalakalakos of the far-right Golden Dawn, on the developments concerning the resolution of the name dispute with fYROMacedonia. From the statements of the political leaders and the announcement of Alexis Tsipras, there appears to be room for broader understanding and possible consensus in the Greek parliament on a composite name for the neighbouring country.
Immediately after returning from Davos, Alexis Tsipras met with his government partner, Panos Kammenos, president of ANEL, who has a different approach to the nomenclature. Much will be made clear about ANEL's position, after the joint convergence of the House Parliamentary Group and the Party's Executive Committee on Monday, January 29.
In Skopje, after the convergence of the council of political leaders, with the participation of President Gjorge Ivanov, it seems that after Zaev's government moves in the name dispute the opposition has toned down the confrontation. As far as the VMRO is concerned, there are two lines, the hard one of former prime minister Nikola Gruevski, expressed by the current deputy chairman and the mildest line of president Christian Mitskoski.
According to information of IBNA, there will be a call to the VMRO by the European People's Party, in a bid to find a way to a solution, as tomorrow the party will go to Brussels at the invitation of the EPP.
On the other hand, the party's decision to return to parliament to discuss the law on the use of the Albanian language as official, may create the framework for an agreement with the government in the nomenclature. Already the VMRO has tabled over 35,000 amendments to this law.
Moreover, several VMRO members face a series of persecutions for both the events that took place in parliament last spring and corruption cases investigated by the Prosecutor's Office of fYROMacedonia, issues that make them "vulnerable".
The next step for the governments in Athens and Skopje is to inform citizens about the forthcoming agreement on the name sispute. Greek foreign minister Nikos Kotzias, on Monday evening, will give an interview to state television on the issue, while other actions to inform the citizens will follow.
The same is expected to take place in Skopje, with the occasion of the visit of UN Special Representative Matthew Nimetz, who will visit Athens and Skopje at the end of January./IBNA