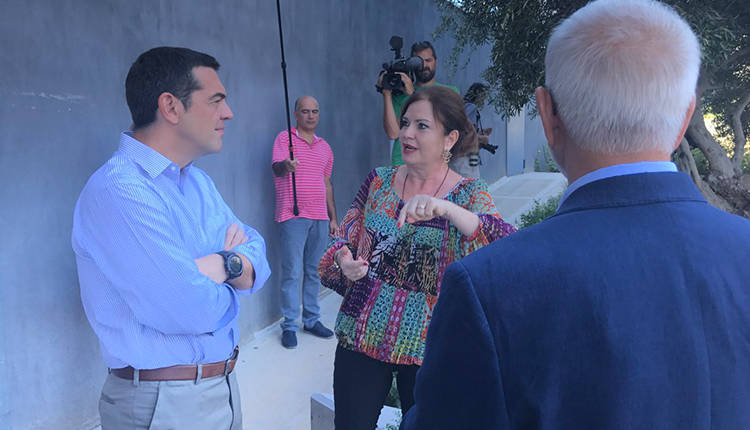 "This is what little Greece can achieve," the board president of Apivita Natural Cosmetics' Nikos Koutsianas said on Monday as he welcomed Prime Minister Alexis Tsipras to the company's premises.
The prime minister is currently making a round of visits to Greek companies that promote extroversion and healthy entrepreuneurship.
Tsipras also met Manuel Puig, the board president of the Spanish Puig Group that recently acquired a majority stake in Apivita. During the meeting, the prime minister compared Apivita to the Spanish soccer club Barcelona, saying: "What Barcelona is for football, Apivita is for cosmetics products."
During a briefing by the company's senior executives, the premier showed great interest in a presentation by Irini Vallianatou, responsible for herbs in the company, who stressed that Greece's biodiversity stands out in the European area. Of a total 20,000 species, she said, more than 6,000 can be grown in Greece, with most of them belonging to families with medicinal properties.
"We must realise that the transition to another era for the country, the economy, entrepreneurship and production will not come without using our brains, knowledge and experiences and especially Greece's comparative advantages," the prime minister noted.
Tsipras said that the company was one of several business efforts in Greece, and far from the only one, that have managed to do great things in the Greek and international markets by having a different philosophy – not just in the way they organise production but in the essence of that production. This was because their production model was based on a fundamental value system that did not see profitability as an end in itself, for which we must sacrifice everything, Tsipras said.
"Greek nature is our country's most important comparative advantage, one which allowed our grandparents, us and will allow our children in the future to taste these products of unparalleled quality but also to use them and create a new framework of production that will boost the Greek economy," he stated.
"Our aim is to create the conditions for a production model that is compatible with the comparative advantages of our country and will multiply the added value, focusing on improving product quality through research and innovation," Tsipras noted.
The Prime Minister underlined that this production model must also absolutely respect workers' rights, since workers were the most important link in the production chain./IBNA
Source: ANA-MPA