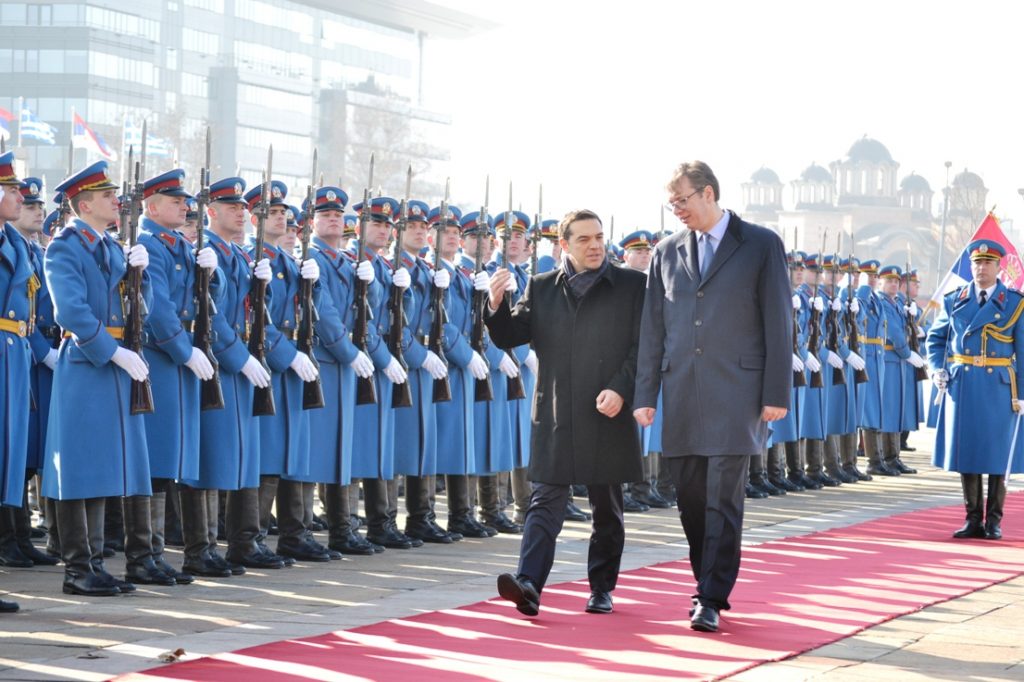 Greek Prime Minister Alexi Tsipras' visit to the Republic of Serbia was highly successful, both from Greek political and business circles but also from Serbian diplomatic and business sources.
Although Alexis Tsipras' visit was delayed, according to a senior diplomatic source in Serbia, the success of the contacts and the identification of a series of issues on both sides launches initiatives that will further strengthen cooperation between the two countries and would make the Athens -Belgrade axis one of constructive cooperation on an economic and political level.
Alexis Tsipras and Nikos Kotzias, while forming an extrovert multi-level and proactive policy on the one hand are also building alliances that will give Greece the possibility to "lead" as the stability and security pillar, in an area that has not ceased to be plagued by minor differences which create obstacles to cooperation and development in the Balkans and the rest of Southeast Europe.
Greece, even during the crisis years remains a country which can through its democratic structures, European experience and the extroversion which has always described it, become a strategic partner to Southeastern European and Mediterranean countries. With the largest GDP of all the Balkan countries, Greece continues to be strong.
Remaining attached to what Brussels and powerful allies dictated, did not prove beneficial for Greece. The decades of inertia in the country's foreign policy isolated it even from traditional allies, making it vulnerable on the international scene.
Beyond this, the importance of reactivating bilateral relations with Serbia makes Greece an important geopolitical player in the region. The tripartite cooperation with Cyprus, Israel, Egypt, Lebanon, Jordan and Palestine, the four-party cooperation with neighbouring countries to its North, Albania, FYROM, Bulgaria and EU member countries Bulgaria, Romania, Croatia as well as the activation of the Supreme Councils Cooperation with Turkey and Serbia, form grid partnerships that can act as a security and cooperation pillar with common benefits.
If one includes the Meeting of Euro-Mediterranean countries as well as meetings for religious pluralism and the Euro-Arab Cooperation for Peace and Security, organised by the Foreign Ministry, then we are talking about a strong foreign policy with multiple benefits over time.
The significant presence of the business world at the Economic Forum in Belgrade, but also the activation of a High-Level Cooperation Council, with the design of joint investment proposals between the two countries, marks the success of Greek foreign policy. The next step will be the visit by Deputy Prime Minister Ivica Dacic to Athens in the coming period, while in early spring the first High Level Cooperation Council will be held in Thessaloniki.
The Greek Prime Minister Alexis Tsipras will participate in the EU summit in Valletta Malta on February 3rd and will visit Ukraine on the 8-9 Feb./IBNA