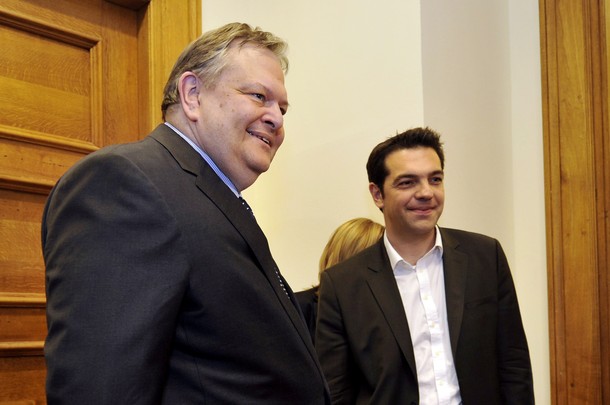 Athens, December 2, 2014/ Independent Balkan News Agency
By Spiros Sideris
"In matters of foreign policy there is the need for a national strategic planning, calmness and sobriety", stressed, among others, the president of SYRIZA Alexis Tsipras immediately after his meeting with Deputy Prime Minister and Foreign Minister Evangelos Venizelos.
The meeting at the foreign ministry lasted approximately two hours and involved only foreign policy issues, as stated by both Venizelos and Tsipras.
Venizelos spoke of the need for a common understanding on foreign policy matters.
Both men made it clear that the meeting revolved strictly around foreign policy.
Venizelos noted that with Tsipras they had a "a very substantial, interesting conversation, in a climate of national consensus" and noted the need for a united internal front, since "we have a list of national issues open" and "should be looking towards defusing tension".
On his part, Alexis Tsipras said he was informed of the Greek-Turkish matters and the Cyprus problem, while adding that as a principle SYRIZA believes that foreign policy should remain outside the framework of internal political confrontation.
Tsipras made special reference to the violation of the Cypriot EEZ by the Turkish research vessel Barbara and the other ships that accompany it, describing the move is a major challenge on the part of Turkey.
The Turkish research vessel "Barbara" should withdraw, in order for discussion on the Cyprus problem to start again, noted the opposition leader, adding that he was informed of all the delicate handling, many of which clearly cannot be divulged.
He then called for the utilisation of all means to put pressure on Turkey, in order to defuse tensions and the resumption of dialogue.
Finally, Tsipras expressed his concern not for the substance of the meeting of the Board of Cooperation between Greece – Turkey, which will take place in Athens on December 5-6, but for the timing, at the time when Turkey keeps a provocative stance.
The meeting took place one day after Venizelos' visit to Turkey and in view of the 3rd Greece – Turkey High Board of Cooperation.