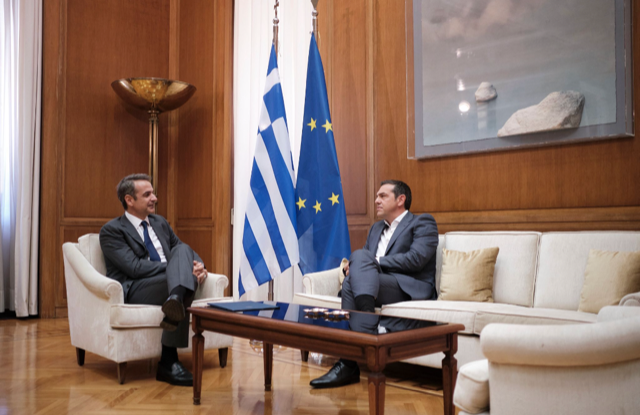 SYRIZA-Progressive Alliance chief requests Extraordinary Summit to discuss sanctions against Turkey.
Speaking after his meeting with Kyriakos Mitsotakis, the President of SYRIZA-Progressive Alliance called for the immediate convergence of an Extraordinary EU Summit in order to debate upon sanctions against Turkey, while stressing to him that "You ought to stop the Oruc Reis drillship". The meeting took place at the Prime Minister's Office in Parliament, in the context of the briefings to political leaders on the European Council and developments with Turkey.
"In the last eight months, there has been a dangerous escalation of Turkish aggression, both in the Eastern and Central Mediterranean", Alexis Tsipras said in a statement.
"Against this escalation", the main opposition leader continued, "the country must set up a national strategy. And this requires political consultation. Mr. Mitsotakis informed me today. But he informed me, while the whole Turkish fleet is located south-southeast of Crete, Rhodes and Kastelorizo. And while a violation of our sovereign rights has already been announced. That is, seismic surveys within the Greek continental shelf. We hope these threats do not end up being actualized".
"However, the message I conveyed today to Mr. Mitsotakis was clear", Alexis Tsipras noted:
"You have to prevent Oruc Reis from operating within the Greek continental shelf. In the way the country and its Armed Forces did successfully back in October 2018".
"I also recommended – after the agreement with Italy for the Exclusive Economic Zone – to extend our territorial waters to 12 nautical miles in the Ionian Sea, to intensify negotiations with Egypt for the establishment of an Exclusive Economic Zone and – if the above is deemed impossible – to also proceed with the extension of our territorial waters south and east of Crete to 12 miles", said the President of SYRIZA-Progressive Alliance.
Continuing, he added, "I also had the opportunity to discuss Europe's attitude with Mr. Mitsotakis. Europe must assume its responsibilities. The differences are largely Euro-Turkish. Europe's rights are violated when the sovereign rights of Greece are violated. To the extent that there is an escalation and not a de-escalation in the next period, I asked Mr. Mitsotakis, I advised him, to request an extraordinary Summit, in order to discuss sanctions against Turkey".
Concluding, Alexis Tsipras noted: "Our difference with Turkey is one and only. It is the continental shelf that is identified with the exclusive economic zone. There are no other differences. The Treaty of Lausanne is non-negotiable, gray zones in the Aegean do not exist, the Turkish-Libyan Agreement is non-existent and illegal. Therefore, there is only one difference between us. We must resolve this dispute through dialogue with Turkey on the basis of international law. But not under a regime of threats and blackmail. /ibna