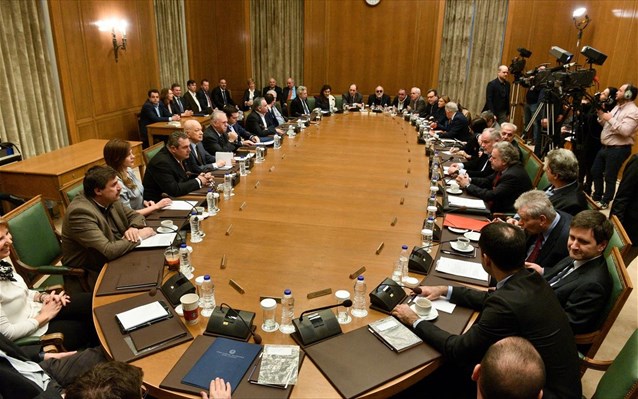 According to sources, Prime Minister Alexis Tsipras held clear the air talks with Independent Greeks leader Panos Kammenos on Monday. The latter's alternative proposals to the FYROM name-change deal have caused a major backlash within the SYRIZA party and appeared to have deepened a rift in the coalition over the issue.
The meeting was not officially confirmed by the Prime Minister's office. The Defense Ministry didn't officially comment either.
During a meeting of the SYRIZA Central Committee over the weekend, several prominent party officials, MPs and ministers attacked Kammenos. However, local reports suggest that the PM is expected to ignore the strong sentiment against Kammenos and paper over the cracks in the coalition.
SYRIZA is riling at proposals for a new "Balkan alliance" the confines of NATO – aimed at deflecting Russian influence in the region – as well as plans for more US bases in Greece. The left-wing party members point out that this is not official government policy, while the Defense Minister later sought to play down the scope of his proposals.
On Monday, Kammenos – who is also Minister of Defense – explained that Alexis Tsipras had been briefed on his intention to present an alternative plan to the name deal. Kammenos said that he is "in complete harmony" with the premier.
"The prime minister and I are always in communication," Kammenos said. "On the basis of our charter, we [Independent Greeks] did not agree to cede the name 'Macedonia' to the neighboring country, but we did not prevent the government from having a dialogue and showing that our country is open to a solution," Kammenos said.
On Tuesday, the two coalition partners will meet for the first time in public at a cabinet meeting. Tsipras is expected to reiterate his intention for the government to see out its four year term and go to the people in the autumn of 2019.
In a bid to change the agenda, the PM will, according to sources, bring the issue of constitutional review to the table, kick starting the long process to make amendments. Officially, the cabinet meeting will discuss the 2019 draft budget and upcoming legislation./IBNA