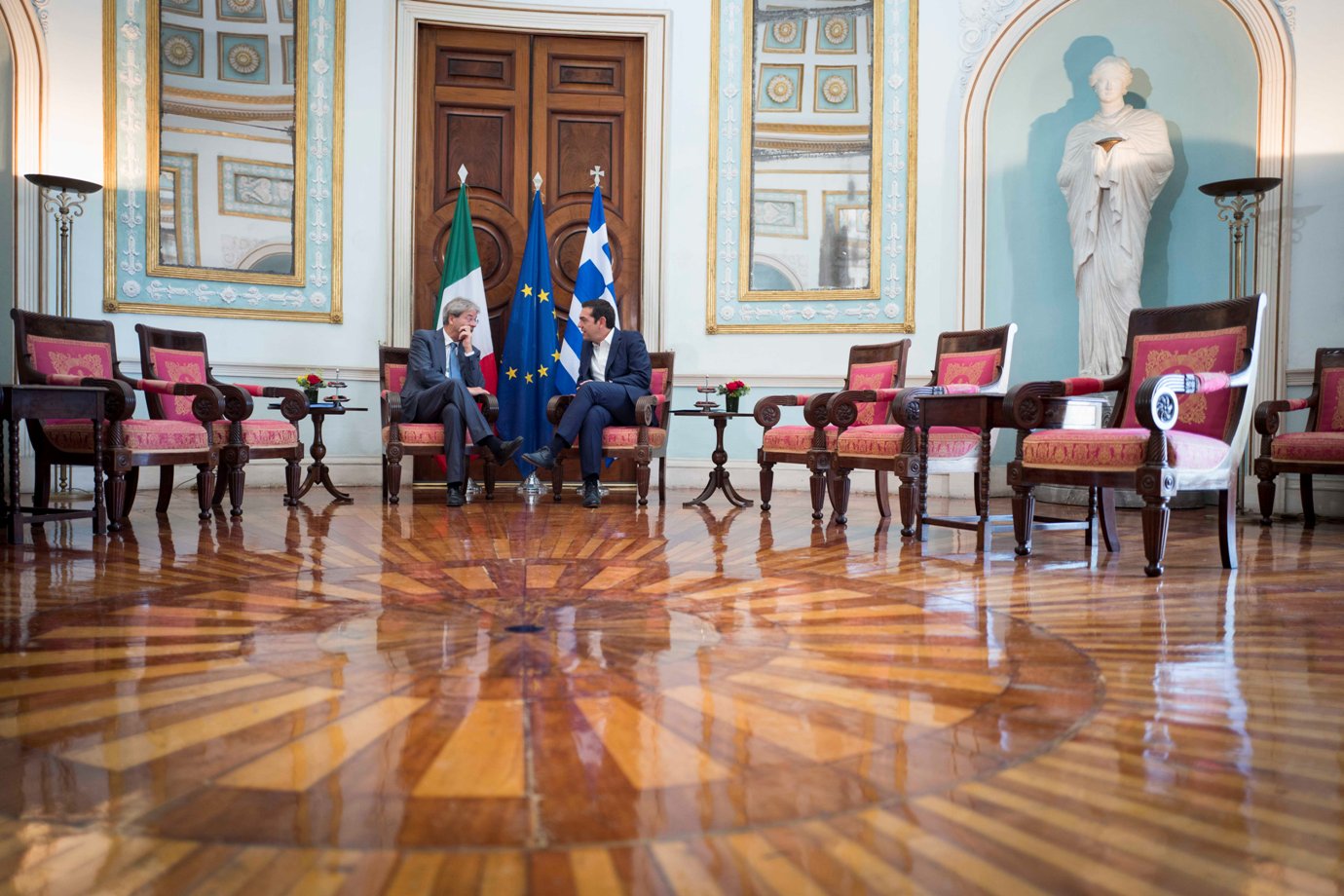 The peoples of southern Europe must not be relegated to the margins of the European Union but must play a leading role and they will do so, Prime Minister Alexis Tsipras said on Thursday in a joint press conference with his Italian counterpart Paolo Gentiloni, held within the framework of the 1st Intergovernmental Conference between Greece and Italy on Corfu.
The peoples of southern Europe must not be relegated to the margins of the European Union, Tsipras said. They must play a leading role in the new European architecture and they will do so, he added.
The Greek prime minister noted that Italy is a very important partner in the area of investments, and that he agreed with Gentiloni on the need to strengthen this relationship. "We referred particularly to TRAINOSE, as the agreement was signed today," added Tsipras, underlining that Italy's Ferrovie Dello Stato Italiane intends to invest 500 million euros in the Greek railways (TRAINOSE).
This will be the first of a series of important Italian investments in the Greek economy, Tsipras added: "Today is a very important moments that opens up a very important road for investments and further trade and economic cooperation between the two countries."
Replying to the Athens Macedonian News Agency regarding the agreement signed on Thursday, Tsipras noted that TRAINOSE's privatisation had to go ahead so that the Greek State could avoid losses amounting to several million euros, as well as some 700 million euros in fines and penalties imposed by the European Commission over competition issues in Greece.
The investment was significant in that Greece was relieved of a major financial burden but also because of FS Italiane's planned investments in the Greek economy, he added.
This came "at a time when we have great need of a network serving passengers that is reliable and meets their needs, and secondly during a time when the Greek economy thirsts for investments more than ever, since investments bring jobs," Tsipras said.
"Our main goal is a strategy for creating jobs," he added, noting that this could be regarded as the most progressive approach possible in a country emerging from such a terrible crisis.
"Employment and the right to work again are the most progressive thing there can be at this time, together, of course, with our efforts to heal society's wounds and arrive at a model for equitable growth," the prime minister said.
Addressing reporters in his turn, Italian Prime Minister Paolo Gentiloni agreed on the significance of the agreement signed by Trainose and FS Italiane and said the day brought "good news" for Italy as well as Greece, since it created the right conditions "for us to invest further in Greece."
Italy is Greece's foremost strategic trade partner and we hope that this cooperation will be strengthened further in the sector of investments, Gentiloni said.
"The economic climate is changing for better and we must seize the opportunity," he added, agreeing that there cannot be a two-speed Europe, separated between north and south.
There is a great opportunity to give Europe new impetus, we can take rather significant and optimistic steps in the future, Gentiloni underlined.
Tsipras said that he shares Gentiloni's view regarding the possibilities arising for new reforms and changes in Europe, because, as he noted, we lived in a situation where everyone was pretending that everything was going well.
He stressed that there is a window of opportunity and that specific decisions must be made in the near future, immediately after the German elections. The usefulness of Greece's initiative in organising a meeting of Europe's Mediterranean states at the level of coordination, dialogue and conciliation was more apparent than ever, Tsipras added, noting that "this can today make a decisive contribution to the debate on the future of Europe."
The two prime ministers welcomed a proposal for an EU economy and finance minister, made by European Commission President Jean-Claude Juncker, provided the role was accountable, with the power to address and correct structural imbalances and promote the prospects of prosperity and convergence between the member-states.
"More democracy is needed; we have to strengthen the new phase opening up in Europe with bold decisions, otherwise we will miss our chance," Gentiloni noted./IBNA
Photos:  PM Press Office/ Andrea Bonetti