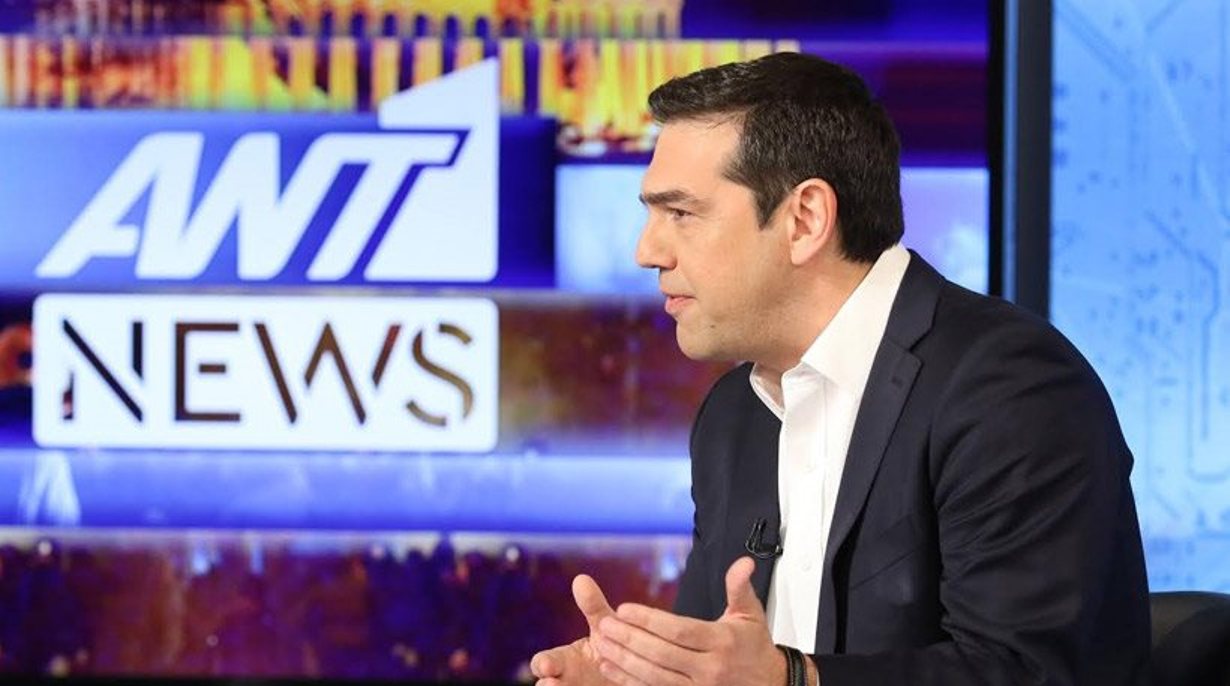 Greek Prime Minister Alexis Tsipras expressed the Greek government's intention not to implement the measures, to be voted in May and implemented as of 1 January 2019, if no debt solution is given to Athens, during an interview for ANT1 TV.
During the interview, Alexis Tsipras clarified what the Greek government's intentions are and defended his decisions while stressing that "a sovereign government can take the measures back if we do not have an agreement", in answer to a question concerning what will happen if the debt settlement is not implemented at the end of the second evaluation.
The Greek Prime Minister then admitted that there was a high tax rate, but noted that this was true of the previous government and added: "I thank God that we were able to reach this surplus; if we did not have it, we would have been a ping pong ball going back and forth between Schoeble and Lagarde ".
Regarding the delay in the closure of the assessment, he stressed that "they have asked us for 42 times the amount of measures", due to the IMF provision for primary surpluses. "There is not a single citizen who has not understood what game was played during this time, apart from New Democracy and its MEPs," he said, adding: "You use delay tactics when you want to keep the score and go through to the qualifiers."
"We had a negotiation. We lost in some points, but we also won in others, such as in countermeasures and labour relations," he said, adding: "They asked us for an increase in collective redundancies and lock-outs." And he added: "We managed to isolate the IMF through the mechanism of politicizing the deal."
When asked about countermeasures, and how "these don't mean anything to the pensioner", he said: " Lets not undermine the countermeasures, they are 2% of GDP, as much as the burden.  They have to do with the non-existence of the welfare state, with a reduction in tax rates, a reduction in the solidarity levy and with support to the welfare state, for rent, children, and so on. It is also a reduction in ENFIA (Single Property Tax)".
Tsipras added that everything being discussed "is always done on the assumption that we will be within our goals".
"We received a bankrupt country" he said, while defending the government's accords, adding that "we got a high prize in privatizations."
Concerning the negotiations and the closure of the second evaluation. He said: "We have a political agreement, I am saying this with certainty, we will have the technical agreement by May 22 and we will soon have the debt agreement."
In reference to the German attitude, he described W. Schoeble as a "serious rival". Asked if he regretted the "go back madame Merkel" he once voiced, he said: "I think Merkel had to go back on the policy she imposed on Europe. On a personal level, after meeting and speaking to her, I dare say that she is conscious and open-minded and this was evident in the refugee crisis."
With regard to PPC (Public Power Coorporation), he added: "As an EU Member State, we are obliged to follow the rules of competition. We are looking for a way that PPC will respond to the commitments we have in the European framework."
"SYRIZA is a force that could not stand up for a minute if it did not have social acceptance. Does this world know that we did not accept bribes we did not take out high risk, high interest loans and that we are not descendants of Byzantine Emperors", he said.
Referring to the 2015 referendum, he said that "if there was no referendum, I would not exist as a politician. Then everyone accused me, all those who had long disappeared, all those who had no voice anymore, they said that I wanted to take the country out of the euro. I did not say that I wanted to take the country out of the euro".
Concerning government plans, he noted that "the goal is to close the evaluation process and enter the markets immediately, but that this should be sustainable"./ΙΒΝΑ