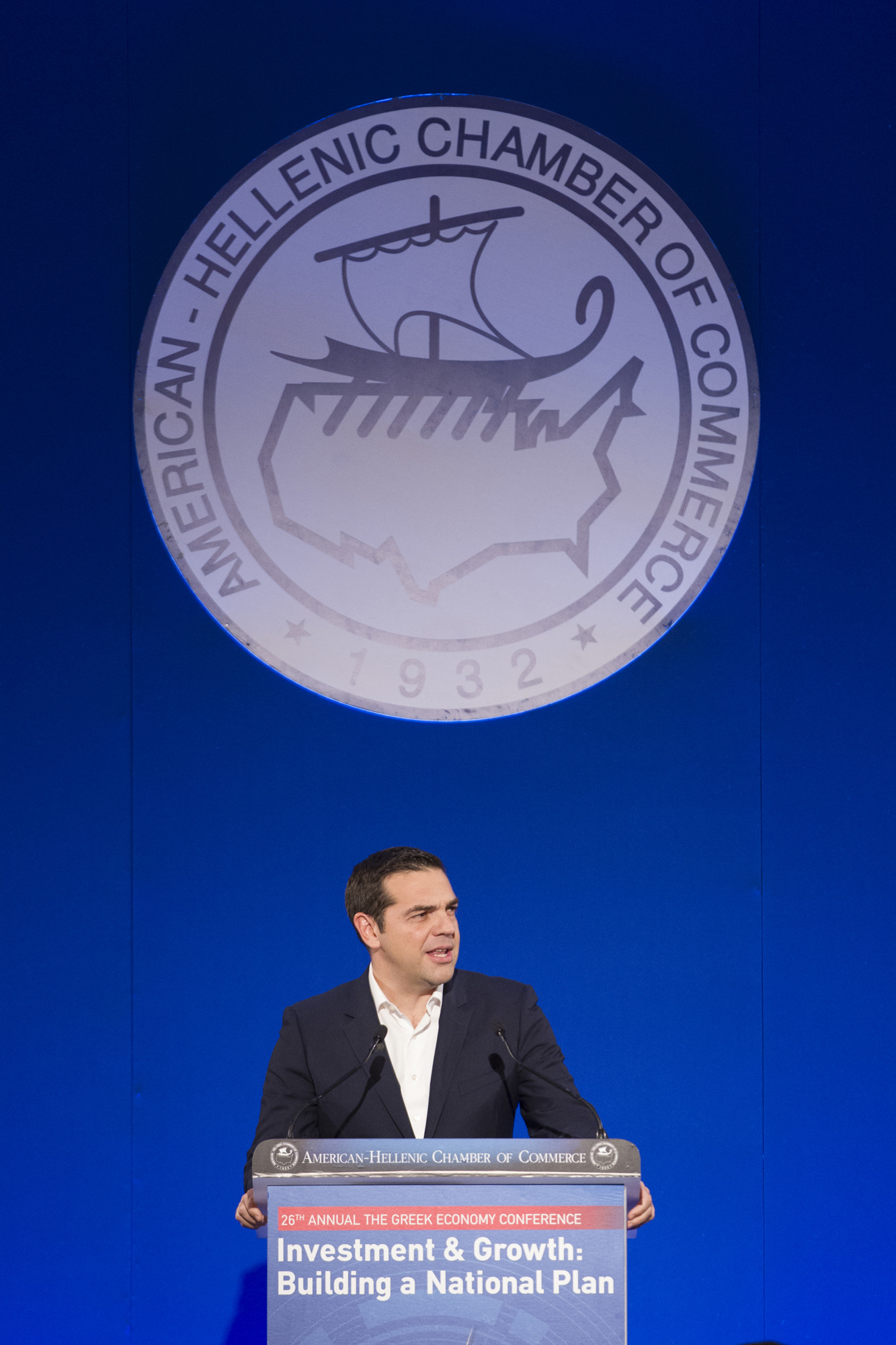 Speaking at the American-Hellenic Chamber of Commerce's annual conference on the Greek economy, on Tuesday night the Prime Minister of Greece, Alexis Tsipras characteristically said that "the hour of the Greek economy is here".
In his keynote speech, Tsipras spoke of the reform plan "he had presented at the annual conference of 2015, where he had outlined his policy for a return to a healthy economy and a release from debt and supervision", reports AMNA.
"I committed to this target and requested your confidence and collaboration in a joint effort to take the country out of the crisis and give it a new perspective.
I am in the pleasant position of saying that the hour of the Greek economy has arrived. Our strategy was effective and the efforts of the Greek people have borne fruit. The country has turned the page", was part of what the Greek premier said during his address to the conference's audience.
As regards to the fiscal situation, the PM said that the Greek leadership has "achieved a historic adjustment in European history and upgraded Greece's geopolitical role, especially in the energy sector."
Talking about the main opposition, he said their criticism about what Greece tried to achieve was unhelpful, underlining that "the best response to all those as well as to certain technocrats who can't stomach the fact that Greece is turning the page is to look at the results, not (listen to) our words."
According to the Greek News Agency's report, Greece's PM "called on his audience not to remain in the past but to see the larger picture. 'The facts allow us to be optimistic but not to become less vigilant. You know that today, three years later, we have honored your confidence. We initiated paths of communication at the highest possible level and we were always here to discuss proposals and exchange views in favor of growth, prosperity and the country's future. We will continue to do this even now that the sacrifices have borne fruit, and it is time to claim the future we deserve together'", said Tsipras…/IBNA
Photo (Library)