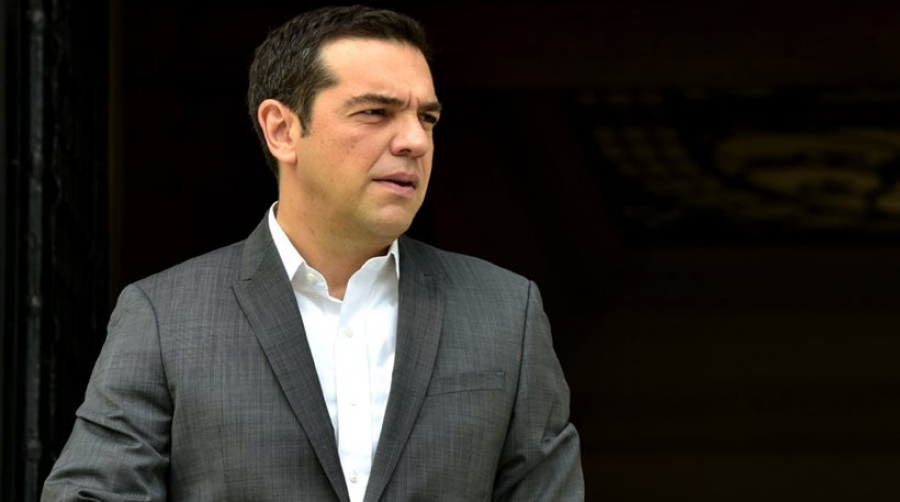 SYRIZA-Progressive Alliance President Alexis Tsipras gave an interview to the Spanish News Agency.
"They managed to achieve the unthinkable; they received the economy at a state in which it was growing for 12 consecutive quarters, and drove it back into recession, before the outbreak of Covid-19 and the subsequent lockdown measures", SYRIZA President Alexis Tsipras stated, commenting on the performance of the Mitsotakis government in an interview with the Spanish News Agency. He also stressed ND's relationship with interests, noting that he would be happy if the next government after SYRIZA could build on the foundations laid, "but as we predicted, this did not happen; this is a corrupt party that has sunk Greece in deep recession, because they are only interested in representing the interests of the elites".
Commenting on the current response of the Greek government to the recession caused by the pandemic, he said that "it is managing the economic consequences of the coronavirus crisis in the only way it knows how: by causing an even greater recession". He explained: "They took a country with increasing GDP and declining unemployment and managed to reverse it in just six months. We are now on the brink of impending disaster, with recession forecasts showing that, by the end of 2020, our GDP will contract by 10% minimum. They disappointed a lot of people very early on. Of course, they are strongly supported by almost all the media, which repeatedly hide the administration's true face. Yet, the problems people are facing constitute a reality and not a shot on TV. I think the time will come again for those who have proven they know the job. A progressive government that will ensure social justice, sustainable development and a better life for every Greek citizen".
Giving a brief overview of what the SYRIZA government has achieved, he said: "We have taken on a country that was virtually bankrupt, plunged into recession and austerity for five consecutive years, with an unemployment rate of 27% and with society completely devastated. After four years, Greece has returned to growth, unemployment has fallen to 18% and we have managed to secure 37 billion, which we have set aside as a liquidity safety cushion".
As for workers' rights, he said SYRIZA had proven that "you do not need to violate labor rights to achieve growth", adding that "we have managed to boost growth by reducing unemployment and protecting workers' rights".
Regarding the role of Europe, he expressed confidence that "Europe now has an unprecedented opportunity to function as a whole, in terms of solidarity and cooperation", claiming that "now is the time for progressive forces to fight for a truly social Europe".
"We need to stimulate the European ideal so that Europe does not remain trapped in the ongoing crisis created by neoliberalism and right-wing populism over the last decade", he added.
In the same interview, the SYRIZA chief spoke about Greek-Turkish relations, as well as broader foreign policy issues, which, as he said, must be addressed responsibly. "This attitude stems not only from my experience as prime minister, but is a position that my political background, the left and the progressive tradition in Greece, has maintained for decades – as we have shown with the Prespa agreement". As he stated about the country's position in the international scene, "in our vision, Greece is a country that promotes peace, international law and cooperation. A strong country, with confidence, that does not threaten anyone but does not accept threats from anyone either".
Regarding SYRIZA's stance on these issues, in contrast to ND's stance while it served as main opposition, Alexis Tsipras clarified: "I think it is catastrophic to hold a populist position when serving as main opposition, especially as threats are growing rapidly against both the sovereign rights of Greece and the stability and security in the region. I have clearly stated that I will follow a responsible, patriotic stance and I will not follow in Mr. Mitsotakis's and his party's footsteps when we were in government".
On the other hand, he spoke of "Turkey's increasingly aggressive behavior in relation to hydrocarbon explorations on our continental shelf", pointing to the "hundreds of overflights over Greek islands", as well as the exploitation of refugees and migrants from Turkey. This situation, as he said, "must be addressed by my country and the EU as a whole, with determination and by conveying a clear message". He continued: "The Greek message in March – when Turkey blatantly violated the EU-Turkey Declaration and endangered the lives of people, forcing migrants to cross the land border- was that this is unacceptable and dangerous".
Regarding the role Berlin could play in the EU presidency, he said: "The German presidency will be an important opportunity to upgrade the EU's dialogue with Turkey, putting the threat of sanctions on the table and the prospect of a revised customs union and a strong EU resettlement program for refugees".
Speaking about the establishment of a progressive movement and consequently a progressive government on the occasion of the governing coalition in Spain, he said that "it is an issue that goes beyond the sum (of percentages) of today's left and progressive parties in Greece". "We definitely have to work on finding a common ground, but you have to know that history and the needs of the people are running faster than party politics", he underlined.
Referring to the bases for the new productive model of the country, he spoke about social justice, a strong welfare state, public education, labor rights, tackling climate change. "These are the foundations for a progressive version of Greece that every democratic citizen envisions. We want to approach each and every one of these citizens to give impetus to these visions", he concluded. /ibna