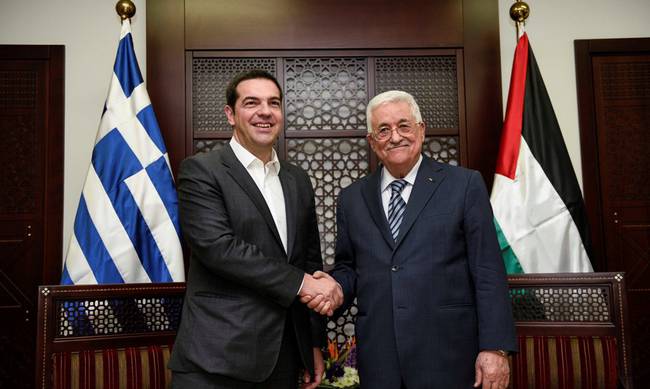 Athens, November 27, 2015/Independent Balkan News Agency
By Spiros Sideris
With the meeting of Alexis Tsipras with Israeli President Rivlin started the second day of the official visit of the Greek prime minister to Israel and Palestine.
The further development of strategic relations between Greece and Israel, the need to address the problem of religious fundamentalism towards peaceful coexistence, and the protection of Democracy being tested in our day, but which despite its weaknesses remains the best form of government, were the three points of agreement and joint reflection between Greek Prime Minister Alexis Tsipras and Israeli President of the Republic Reuven Rivlin.
Rivlin welcomed the Greek Prime Minister in a very friendly atmosphere and after reminding that Democracy was born in Greece followed a discussion of political and philosophical content of the pros and cons of government and its relationship with contemporary political systems.
Alexis Tsipras met with the Greek community of Jerusalem and then left for Ramallah in Palestine, where he met with Palestinian Authority President Mahmoud Abbas.
Greece actively supports the solution of two states in the Palestinian issue, Tsipras stated during a joint press conference with his Palestinian counterpart Mahmud Abbas.
"We will do everything in our power to stop the tension and to return a climate that promotes the resumption of talks", Tsipras said and underlined the need to create a viable Palestinian state with the 1967 borders.
"We agreed with Mr. Abbas, next month he will come to Athens", continued the Greek PM and pledged to set up joint committees and devise a common policy.
The Greek prime minister said that Greece supports any international initiative to resolve the issue, which constitutes the main destabilizing factor in the region.
"We must take initiatives to end the tension and make significant progress", he continued, expressing his support to the initiatives of Abbas.
Tsipras also expressed his opposition to the policy of colonization and condemned the violation of the rights of the Palestinian people. "I visit Palestine in a very difficult time, where there is tension and violence against the civilian population", he said.
In conclusion, praised the historical links between the two peoples and deemed it necessary to deepen bilateral relations.
The creation of a joint inter-ministerial committee for the strengthening of relations between Palestine and Greece announced on his part of the President of Palestine, Mahmoud Abbas, and urged "the European governments of european countries that have not recognized the independence of the Palestinian state to do so".
Addressing all the political forces of Greece, he asked them to support the independence of Palestine.