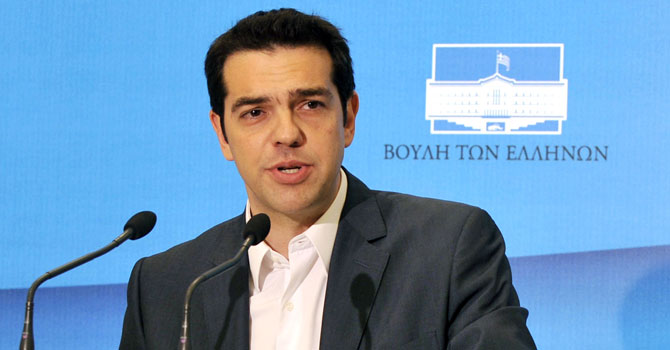 Athens, February 16, 2015/ Independent Balkan News Agency
By Spiros Sideris
"We do not want new rescue loans", says Alexis Tsipras, in an interview with German magazine Stern, to be released Thursday.
The magazine accompanied the Greek prime minister for two days in the Greek parliament and the Maximos Mansion, in view of tomorrow's Eurogroup in Brussels, the focus of which is expected to be the future of Greece, which is a permanent state of crisis.
As published by the editors of the magazine Andreas Albes, Ferry Batzoglou, Andreas Petzold, the 40-year old Prime Minister Alexis Tsipras, president of the "Coalition of the Radical Left" (SYRIZA), is open to dialogue and optimistic. "I am in favor of a solution in which everyone wins. A win – win solution. I want to save Greece from a tragedy and to protect Europe from disunion", he says.
The cabinet met on Friday night to Saturday morning, said the signatories and add: "After that the Prime Minister made it clear to us that "instead of money we need time to implement the plan for our reforms. We promise: Greece in the six months will be another country".
In Stern's report it is stated that in late February expires the assistance program. If no agreement is reached with the lenders, ie the EU, the European Central Bank and the International Monetary Fund, Greece could face a financial collapse. The social security system can hardly take care of the victims of the crisis. One million 300 thousand people are without work, hundreds of thousands have no health care. Mr. Tsipras wants to directly face the most severe consequences of the crisis with a program which, according to the economic team of SYRIZA will cost 12 billion euros. According to Stern, for its financing, the willingness of the states of Europe to engage in compromise is necessary. Mainly by Germany.
Regarding the brief meeting he had a few days ago by Angela Merkel, Tsipras says: "I met her as a polite person. She is not as strict, as one would expect from the Press publications". He believes that Merkel is a politician with knowledge of reality, not keen to put Europe's future in jeopardy. "The trading of Monday will be difficult. Nevertheless, I am optimistic. Our strength is the support of the people", says the Greek Prime Minister.