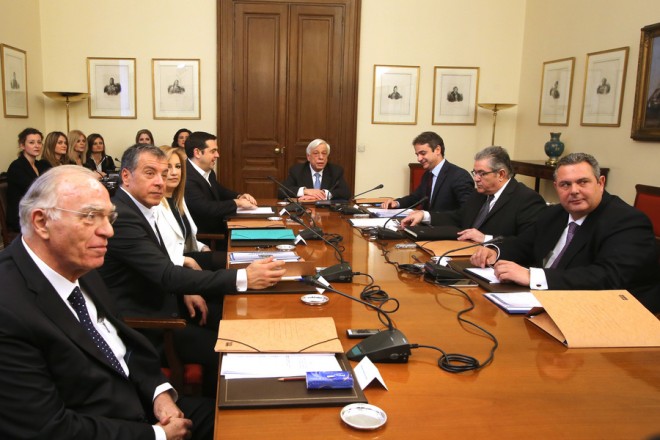 Athens, June 21, 2016/Independent Balkan News Agency
By Spiros Sideris
Meetings with political leaders, concerning the electoral law and the constitutional amendment will have the Prime Minister Alexis Tsipras at the Maximos Mansion.
The meetings are scheduled, in turn, as follows:
-With the presidentof the Independent Greeks, Panos Kammenos, Tuesday 21/6 at 5pm.
-With the Secretary of the Communist Party, Dimitris Koutsoubas, Thursday 23/6 at 12 noon.
-With the president of PASOK Fofi Gennimata, Thursday 23/6 at 4.00pm.
-With the president of New Democracy, Kyriakos Mitsotakis, Thursday 23/6 at 6.00pm.
-With the head of "The River" Stavros Theodorakis, Friday 24/6 at 10am.
-With the Union centrists stood Mr. President. Vasilis Leventis, Friday 24/6 at 12 noon.
As regards the meeting between Alexis Tsipras and Kyriakos Mitsotakis, New Democracy circles commented that in that regard with the Constitutional review, the latter will attend the meeting in order to place the under review issues himself, since it was him "who first has put them on the table since last January, before he was even elected to the position he is today".
At the same time, they rule out any possibility of consensus to change the electoral law, commenting that "Mr Tsipras will lose with the same electoral law he won twice" and they added that following the Koutsogioras example, the "goal of the government is to deprive ND the self-reliance, since its win is given, whenever the next elections take place".