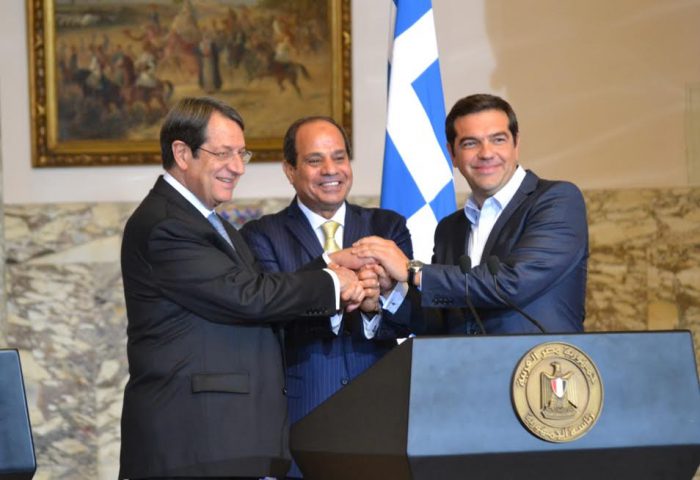 An official visit will be made on Monday, November 20, by the President of the Arab Republic of Egypt, Abdel Fattah el-Sisi. According to a statement by the Egyptian Foreign Minister, it is the first official visit of an Egyptian President to Cyprus. Although the relations of the two countries were constructed based on the distant era of the Non-Aligned Movement, as they were both members under the presidency of Archbishop Makarios and President Gamal Abdel Nasser, it took several decades for an official visit to be arranged.
According to IBNA sources, the Cyprus-Egypt High-Level Cooperation Summit, will be focused on energy, defence, tourism, health and agriculture issues. During a special period for the wider Southeast Mediterranean region, the developments in Syria, Lebanon and Libya, terrorism and migration will be discussed in the margins of the meeting. In addition, President Anastasiades will also brief the other participants on the latest developments in the Cyprus issue.
On the sidelines of his official visit to Cyprus, the Egyptian President will address a formal session of the House of Representatives of the Republic of Cyprus.
On Tuesday November 21, Cyprus President Nikos Anastasiadis will welcome the Greek premier Alexis Tsipras for the 5th Trilateral Summit between Cyprus and Egypt. The widening of their co-operation in the areas of energy, security, economy, entrepreneurship, transport and tourism will be on the agenda of the three leaders' talks. Regional developments in Syria, Libya, Lebanon will as well be discussed.
IBNA's sources said that the Trilateral Summit's programme will begin with bilateral co-operation between the three leaders, followed by all three sides working together and later on by an extended co-operation. Finally, a joint press conference will be held early in the morning, during which the common statement of the Summit will be presented.
Well informed sources who spoke to IBNA, said that the trilateral Summits that were scheduled to take place in early December between Greece, Cyprus and Lebannon and among Greece, Cyprus and Israel will be postponed, each one for different reasons, and will take place in 2018, along with the Trilateral Summit of Greece, Cyprus and Jordan…/IBNA