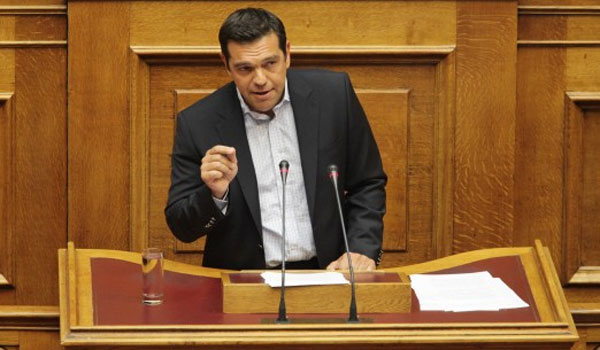 Athens, June 6, 2015/ Independent Balkan News Agency
By Zacharias Petrou
Speaking in Parliament on Friday, Prime Minister Alexis Tsipras said he called the session because the people, and all political parties, need to know the situation – and importantly 'where we want to go'.
The Prime Minister's speech was defiant and critical of Greece's creditors. He also tried to set the opposition parties before a dilemma: They either support him and his proposals to creditors or oppose him, and risk losing public support.
Tsipras tried to win endorsement from the political opposition for the government's rejection of the EU's "shock" proposal this week. In response, main opposition leader Antonis Samaras said the government should stop timewasting and bring a final agreement to parliament. "If you can get the support of your own Mps first, then we'll tell you what we think of it" Samaras told Tsipras.
"We are seeking a European solution, for all of Europe as well as Greece" the PM said, adding that he is determined to reach a solution to deliver "a new epoch for the European Union".
Tsipras mentioned the most important red lines of his government: low primary surpluses, debt restruct, protect of pensions & real salaries.
However, "hand on heart, I believe we are on the verge of a deal" Tsipras said. "Why is a deal close? Because we have international public support for our "realistic plans" and because no-one wants a "rupture"" he added.
Responding to the Prime Minister's speech, main opposition leader Antonis Samaras said Tsipras has "some nerve" to challenge opposition parties to back him.
"Anything you have gained through negotiations has been lost by Greece's fall back into recession" Samaras pointed out. He also revealed that he is already in contact with European leaders in order to help the Greek cause. Samaras urged the Prime Minister to bring a final agreement with creditors to parliament immediately. "For the sake of the country, you should be carefull you don't prove to be fatal as a leader" he warned Tsipras.
The New Democracy leader also stressed:
"Instead of challenging us to support you, you should make the proposals of former Finance Minister Hardouvelis your own and bring them to the negiating table […] Even Syriza Mps admit they were far better than the measures you are about to impose […] There is no doubt that a new memorandum is on the way".
In his rejoinder, the Prime Minister asked the opposition leaders to answer his question: "Will you support our proposal or the proposals of the creditors"?
The Greek PM insists that his government will never sign a new "memorandum of understanding" (a reference to the austerity programme Greece accepted in 2012).