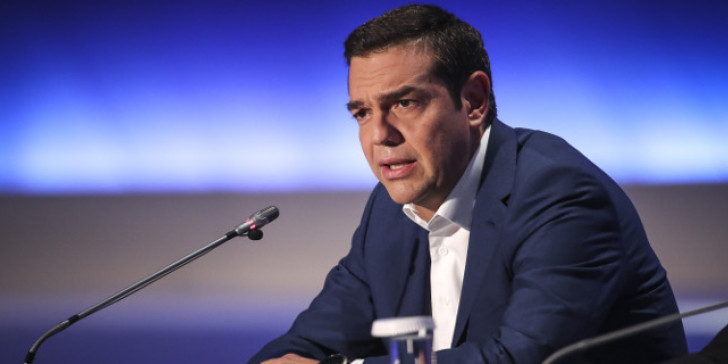 In his first televised interview since losing in European and local elections, Prime Minister Alexis Tsipras told public broadcaster ERT on Tuesday night that it is a first for a PM to "get the message of the European vote" and bring a general election forward.
Alexis Tsipras defended the government's record and achievements in the economy, while pointing out that he has only been able to apply his own economic policy mix since the end of the bailout agreement in August 2018.
The Greek premier predicted that a majority will emerge allowing a new government to be formed after the 7 July general election and there won't be a need for a repeat vote.
He went on to attack the main opposition New Democracy (ND) party's manifesto, arguing that the pledges made by opposition leader Kyriacos Mitsotakis appear to cost over 7 billion euros which would probably be raised via spending cuts. Tsipras added that ND has a "hidden agenda" for when it comes to power, while a SYRIZA-led government would seek to help the middle class recover from the crisis.
Tsipras said that he plans to bring legislation to parliament to cancel lowering an exemption on income taxes before the snap election. The measure would otherwise come into effect next year. The PM also called on ND to support the bill, which will be voted on next week.
However, Mitsotakis said in an interview earlier this week that his party will not participate in any debate or vote of legislation in parliament, pointing out that "the House should never have been kept open in the first place" because of the snap election.
In an announcement on Tuesday night, the main opposition party said "Tsipras appears to be unrepentant", refusing to acknowledge the message voters sent to him via the European and local elections. The party accused the government of turning the parliament into a "laundromat" in order to adopt legislation that is favorable to SYRIZA ahead of the snap election.
"Obviously, he is unable to realize that citizens are counting down the days to the political change they desire", the ND statement said of Tsipras./ibna