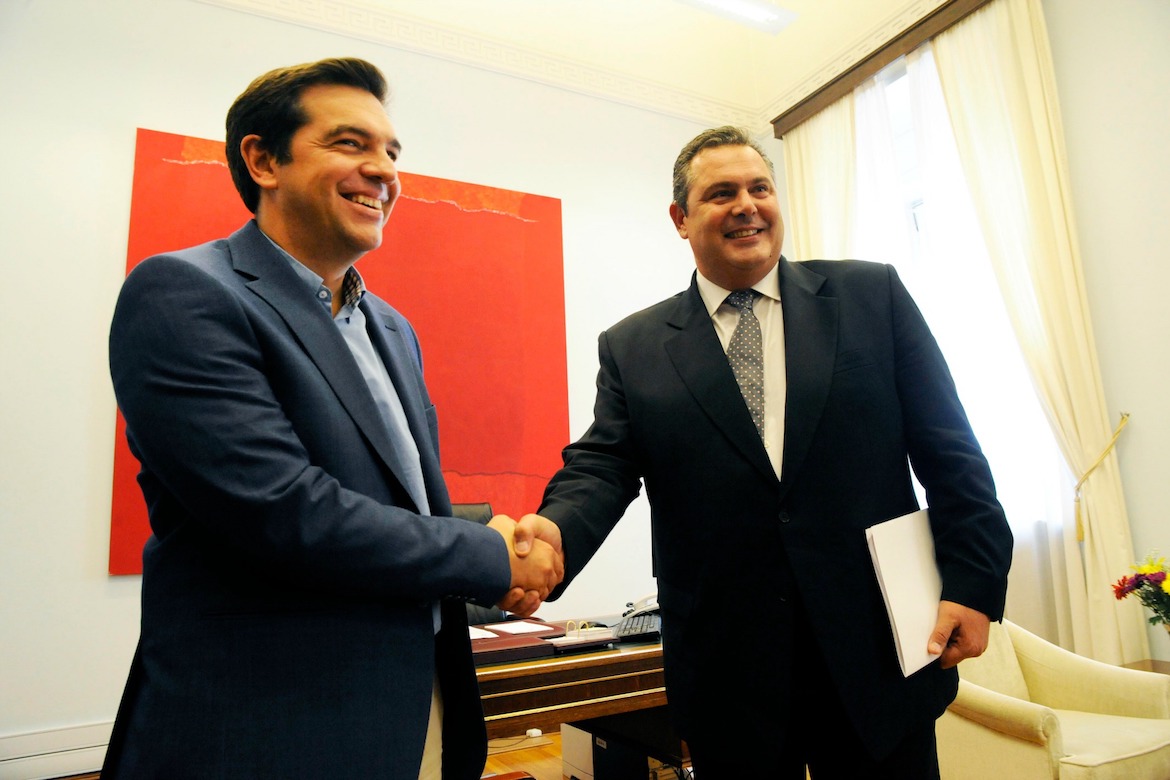 In an interview with the Wall Street Journal, Prime Minister Alexis Tsipras said his government will survive the ratification of the fYROMacedonia name-change deal even if junior partner Independent Greeks (ANEL) decided to quit the coalition.
"I think my government will survive, but I don't know if my coalition will survive, but this is something my coalition partner will decide," Mr. Tsipras said.
The PM said the agreement will come to Greek parliament for ratification in March, after the referendum in Skopje, dismissing speculation that he might postpone a decision until after Greek elections next year.

On Thursday, ANEL vice-president Panayiotis Sgouridis said his party's MPs will have to abide by the party's official line on the name deal signed between Athens and Skopje and reiterated leader Panos Kammenos' position that ANEL will leave the coalition government before the fYROMacedonia name-change agreement reaches Parliament.
Commenting on the economy, Tsipras said Athens will deliver on commitments, however, he reiterated that the Greek government believes legislated pension cuts set to kick in next year are unnecessary.

He said creditors can be persuaded that the measure is not fiscally necessary, adding that avoiding the cuts "will not be unilateral, it will be a logical."
Speaking on national television earlier, government spokesman Dimitris Tzanakopoulos revealed that a discussion is underway with creditors, with the government presenting figures to show that the measure is not structural and will not affect the sustainability of the pension system.

In his WSJ interview, the Greek premier also touched upon relations with the US, which he called "better than ever".

Asked to comment on relations with Russia after diplomates were recently expelled from Greece due to claims of Russian meddling in the fYROMacedonian name dispute, Tsipras said the move was made "to protect our national interests".
"We want to have a close cooperation with Russia, but if sometimes there are lines violated we have to react," the PM added…. / IBNA
Main Photo (File): SYRIZA head and premier of Greece Alexis Tsipras (L) with Panos Kammenos, the head of Independent Greeks (ANEL)