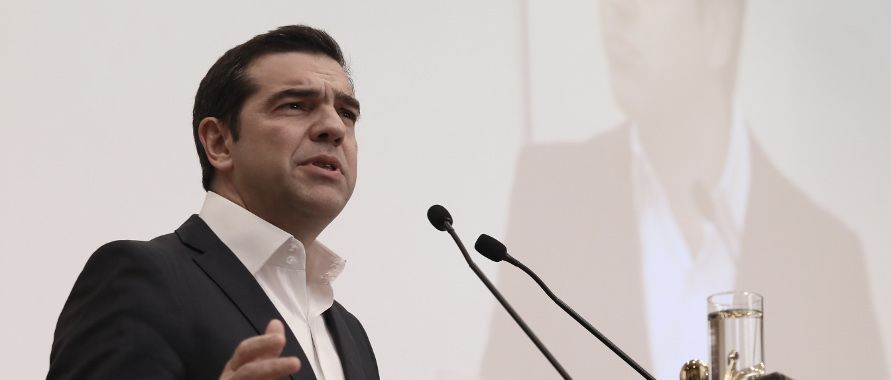 Prime Minister Alexis Tsipras clarified during a speech in Athens on Monday that he doesn't intend to shift his ruling left-wing SYRIZA party to the center-right of the political spectrum. However, he acknowledged the need for alliances to form in future, adding that this debate must begin presently.
Addressing an event on prosperity for all in a sustainable Europe, Alexis Tsipras denied claims that his strategy is to pick apart the center-left Movement for Change (KINAL), led by Fofi Gennimata. However, the Greek premier was critical of KINAL's strategy, which appears to be focused on dealing a strategic blow to SYRIZA in the next general election.
Tsipras urged Gennimata not to act as a "sidekick" to the right-wing New Democracy party. Analysts point out that Tsipras has been openly criticized from the left-wing "Group of 53" SYRIZA faction, for bringing former ministers and officials of previous PASOK administrations into the party and government fold.
Thanos Moraitis took the deputy minister position at the Ministry of Transport & Infrastructure in a recent cabinet reshuffle. Angelos Tolkas was also appointed deputy minister for Immigration Policy. Both Tolkas and Moraitis were former members of KINAL and had served in previous PASOK governments. This is seen as an attempt by the PM to occupy center-left ground.
Meanwhile, Tsipras also touched upon another popular theme of his narrative ahead of this year's triple election battles, as local, European and general elections are coming up. He said his government has presided over economic recovery, remedying the tragic results of previous neoliberal policies which led Greece to economic destruction.
Also on Monday, it was revealed that the government is planning issue a 10-year bond, the first such foray in a decade. In a regulatory filing, Greece said it has mandated six international banks as joint lead managers for the issue "in the near future," subject to market conditions./IBNA