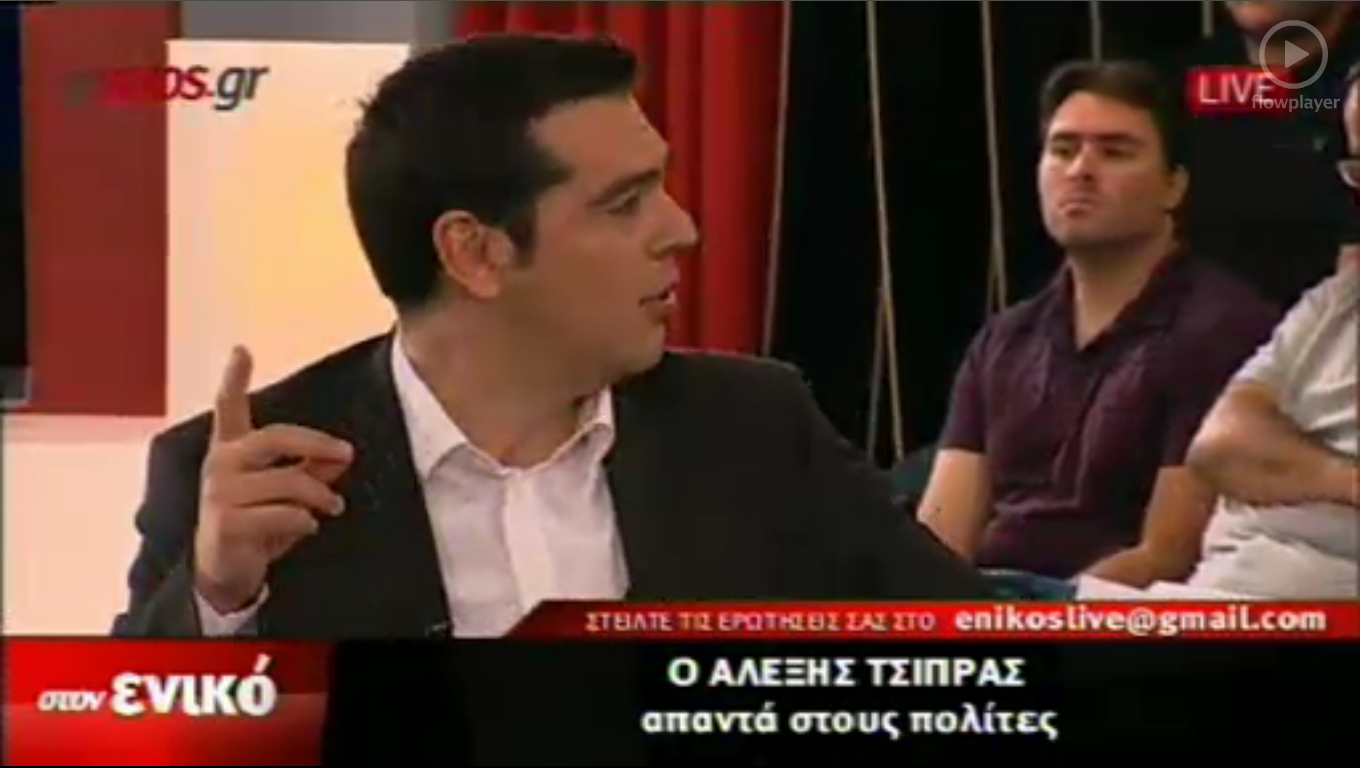 Athens, April 28, 2015/ Independent Balkan News Agency
By Zacharias Petrou
The Greek government is at a difficult point of the negotiations with its lenders but it has nothing to hide and it's not bluffing, Prime Minister Alexis Tsipras said on Monday night during an interview on TV programme 'Ston Eniko' (Star channel).
Tsipras admitted the government has made mistakes under the pressure of the negotiation process, adding that several mistakes were also made because it was misled by the European Central Bank. "On February 18, the ECB took a decision which was politically and ethically unorthodox," Tsipras characteristically said. "We were wrong not to ask for money in February" he added.
Alexis Tsipras ruled out calling a snap election but did not rule out a referendum, saying the "Greek people are my only bearing but we will not need to go to a referendum". He said the only way a referendum will be called is if negotiations with creditors lead to a solution that is far away from the mandate his government has. "We won't resort to a referendum because we will reach an agreement with lenders" he said.
Responding to questions from the audience, the PM expressed belief that "at the end of the day, when the majority of the people is on your side, the desired result will come […] No matter how small our country is we have proved we can change things in critical times in history".
"Did anyone believe before the election that those included in the Lagarde List will be called upon to pay? We managed it. With our government they will all pay. It is not right for some to pay and others to transfer their money abroad" Tsipras said.
"My vision is not to see Greece outside Europe. We are fighting for Greece to be an equal member of Europe. We hope there will be an initial agreement this week or by next week at the latest for a "minimum package".
Regarding privatizations he said that the main difference with creditors is how proceeds will be utilized, with the governemnt demanding that they are invested back into the real economy and not used to repay sovereign debt. "By repaying debt with this money lenders are trying to prove the debt is sustainable. We say we should utilize public property to save the country but at least a part of proceeds whould go to the real economy. Where possible we would like to see joint ventures with public and private participation" Tsipras said.
The German Chancellor has failed to accept that the policies followed in the past five years have failed, Tsipras said adding however that Angela Merkel is willing to find solution for Greece.
Having reshaped the team negotiating with creditors earlier on Monday, the PM said Finance Minister Yanis Varoufakis is an important asset to the government adding however that the negotiation is not down to one person and that Varoufakis has annoyed lenders because he speaks their language better than they do.
"Myself and the entire government are in tandem with Yanis Varoufakis; we felt the need to re-organize the crucial negotiating teams at a critical time for talks […] this was decided before the Riga eurogroup meeting" he said.