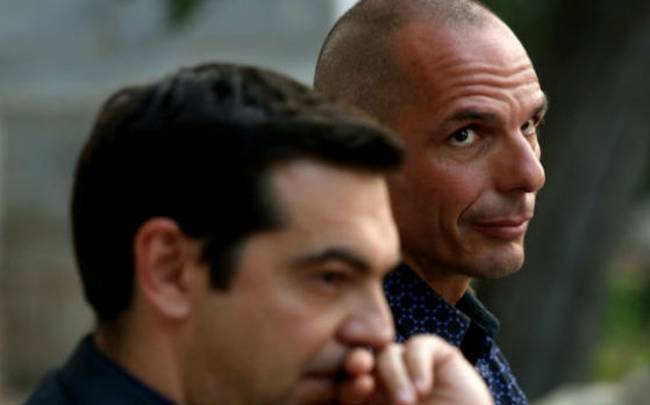 Athens, April 27, 2015/ Independent Balkan News Agency
By Zacharias Petrou
Greek Prime Minister Alexis Tsipras reshuffled the country's negotiating team that are in ongoing talks with European and IMF lenders, after his finance minister was sharply criticized at a euro zone meeting last Friday.
The government appears to have backed Finance Minister Yanis Varoufakis but, nevertheless, it will be re-shaping negotiations with creditors as well as assigning responsibilities to other players, while also upgrading the duo of Greek negotiators Tsakalotos – Houliarakis.
Commenting on the move, Reuters said the appointment suggested Alternate Finance Minister Euclid Tsakalotos, an Oxford-educated economist and professor who is soft-spoken and well-liked by officials representing creditors, would have a more active role in face-to-face talks from now on.
Nikos Theoharakis an associate of Varoufakis at the finance ministry, who had been leading technical negotiations so far, will undertake the development of a growth plan while the role given to Finance Ministry advisor Elena Panaritis remains to be seen.
The Financial Times reported over the weekend that Varoufakis could be sidelined after being criticised by fellow finance ministers in Riga. The reshuffle takes Yanis Varoufakis out of the firing line. Financial markets welcomed the news as Greece's short-term borrowing rates dropped and the Athens Stock Exchange was up 4.37 pct.
An informal government memo handed to the press reads:
A meeting was held yesterday, chaired by Prime Minister Alexis Tsipras, in order to coordinate and monitor the progress of negotiations.
The meeting was also attended by deputy PM and head of the government council of economic policy Yannis Dragasakis, Finance Minsiter Yanis Varoufakis, Economy Minister G. Stathakis, State Minister N. Pappas as well as Deputy Minister of International Economic Relations, Eu. Tsakalotos.
The meeting confirmed support of Finance Minister Y. Varoufakis who has been targeted by reports in the international press. Finance Minister Y. Varoufakis always acts within the framework of collective decisions and the executive bodies of the government. He will continue to work in exactly the same way.
A political negotiating team is being established under Finance Minister Y. Varoufakis which will be coordinated by Eu. Tsakalotos.
To better support the technical groups in Athens, the creation of a special coordination team was decided under Government Secretary General Spiros Sagias.
The Secretary General for Fiscal Planning of the Finance Ministry, N. Theoharakis, will set up a plan for the growth of the Greek Economy. This plan will form the basis for a new agreement in June.
Finally, responsibility for the technical teams participating in the Brussels Group is assigned to SOE (Council of Economic Advisors) President G. Houliarakis.    
According to Reuters, George Chouliarakis, considered close to the powerful deputy Prime Minister Yannis Dragasakis, will take over responsibility for talks with the Brussels group in an effort to show that Athens is serious about giving lenders access to data.