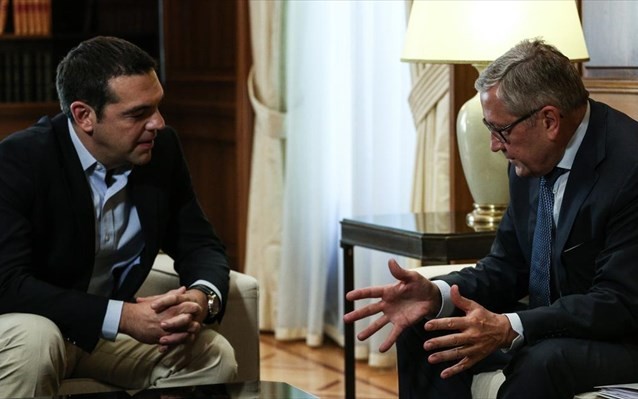 The head of the ESM Klaus Regling met Alexis Tsipras in his office in Parliament immediately after the swearing of the MPs into duty.
The head of the opposition said he would support any serious effort to reduce the targets for primary surpluses, a position that K. Mitsotakis had also announced during his pre-election campaign.
The reduction
However, Klaus Regling repeated what has been said from Brussels, in other words that Greece must remain strictly committed to the primary surplus targets. A week ago, he himself said that the measures taken by the Tsipras government jeopardize the fiscal targets.
Moreover, a European official, after the last Eurogroup, has stressed that the agreed goals must be met, with the more optimistic Pierre Moscovici underlining that the goal of a 3.5% surplus by 2020 is a Eurogroup decision and that alone can overturn it.
According to secure information, in the one-on-one meeting that the head of ESM had with Al. Tsipras, in addition to the surpluses, he reiterated his position that there is no room for tax relief measures, unless there is a broadening of the tax base. Something he also highlighted yesterday at the Economist conference.
In a nutshell, Klaus Regling sets as a prerequisition for the tax relief that the ND government has promised to vote on- and immediately- the reduction of the tax-free threshold from 2020. It is recalled that this measure, which was pre-established as a result of the third evaluation of the program in 2017, was abolished by an amendment voted for before the elections by all the parties.
With the institutions arriving in Athens tomorrow, Thursday, all eyes are on their reaction to the measures announced by K. Mitsotakis./ibna