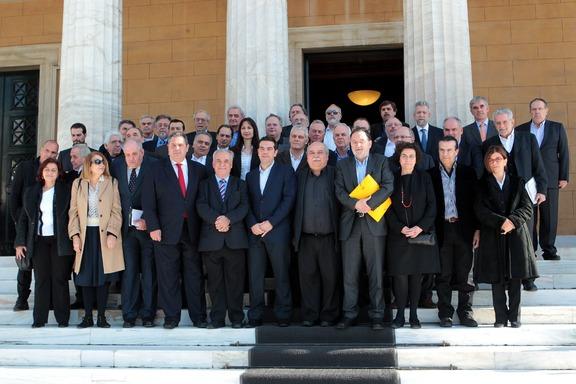 Athens, January 30, 2015/ Independent Balkan News Agency
By Spiros Sideris
We are a government social salvation, stressed Prime Minister Alexis Tsipras in his speech at the meeting of the first cabinet.
The first priority is to address the humanitarian crisis, he said and stressed that "the people demand us to bleed in order to defend their dignity", noting that he would move towards a broader consensus and ordered a zero tolerance policy on phenomena of corruption and arrogance.
There are four priorities:
A) Addressing the humanitarian crisis. Help those who are deprived of basic goods such as food, heating and healthcare.
B) Supporting the economy in order to reboot. Supporting small businesses that are sinking into debt and actions to reduce unemployment.
C) Negotiating with partners for fair and sustainable solution. We are ready for it with a national plan of reforms and change and a four-year project aimed primarily at balanced budgets, but without obligation of exhausting surpluses. We have realistic proposals for debt and investment.
D) Conflict with the established status-quo that has been establishment for decades at all levels. Institutional strengthening of transparency, tackling tax evasion and a fair tax system.
"We will disappoint the Cassandras. Will not go into needed break but will not continue the humanitarian crisis", said the Prime Minister and stressed that the goal is to address and combat corruption and vested interest; the restoration of civil dignity.
"Had it not been for the elections, today we would have continued talking about commitments, salary cuts and pension and perpetuation of the crisis", the prime minister said at another point in his speech, referring to the reactions of the international community to the formation of the new government.
Tsipras also stressed that the government will make a dialogue with everyone, but without fear of clashing and changing the wrongs.