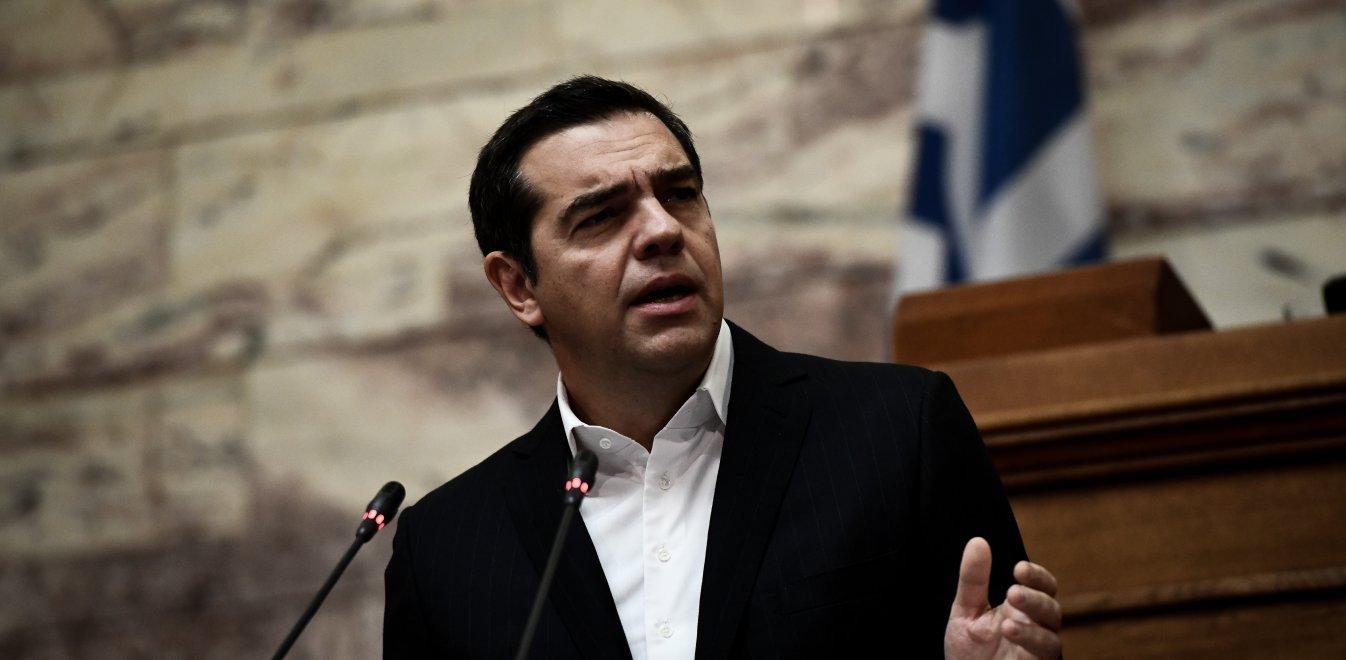 Main opposition leader and former Prime Minister Alexis Tsipras, taking the floor during the debate on Parliament's vote on the 2020 budget, focused on foreign policy.
Alexis Tsipras described the Helsinki policy as a correct one, noting that it was in this spirit that his Government led during the 2015-2016 period the construction of a Euro-Turkish relationship aimed at managing the refugee crisis, resolving the Cyprus issue and promoting exploratory and CBM discussions with Turkey.
The President of SYRIZA went on to note that "This edition of Turkey no longer exists. Our generation made the historical mistake to decide that, since this Turkey no longer exists, the edition of Greece that is based on dialogue, values ​​and international law should vanish as well", underlining that it is wrong "to move refugees back to sea; to disclose highly confidential terms of engagement of the Navy; to terminate the conversations on Confidence Building Measures".
"2020 Greece should continue to follow the European compass of 1999 and not Turkey and its downhill during the 20th century. The Greek people, the friendly Turkish people and the democratic forces on the two Aegean coasts must know this", said Alexis Tsipras.
He then referred to the three lines of action Greece must follow, in order to respond to the Turkish provocations and threats.
According to the main opposition leader, "First of all, we need to upgrade the deterrent force of the armed forces, so that we can protect our sovereign rights. We will support, as we did with the F16s, any deliberate and clear effort to strengthen the armed forces. Our armed forces are capable of guaranteeing and will in no case allow the Greek sovereign rights to be called into question at all".
Second, according to Alexis Tsipras, active diplomacy is needed to re-integrate the Greek interests into the Euro-Turkish context. He noted that the Greek diplomacy should operate on the issue of sanctions in the same way it had operated on the Helsinki policy and the refugee crisis, while adding that if necessary, the Greek side should impose a veto regarding the extension of the European sanctions.
Referring to the contradictory statements about the CBMs, as was the case right before the Mitsotakis-Erdogan meeting regarding the sanctions and the contradictory statements by Dendias and Varvitsiotis, he commented that they were indeed harmful.
In addition, he urged the Greek Prime Minister to push Trump during his January visit to Washington to convey a clear message that EastMed is going forward between Cyprus and Crete and that the 3+1 scheme with Cyprus and Israel will be re-converged, otherwise Kyriakos Mitsotakis would go ahead with the agreement on US bases in Greece.
Finally, the third line of action referred to Kyriakos Mitsotakis creating the conditions for the reopening of the exploratory discussions rejected by Turkish President Erdogan in 2016, even if the appeal to The Hague ends up being fruitless. /ibna