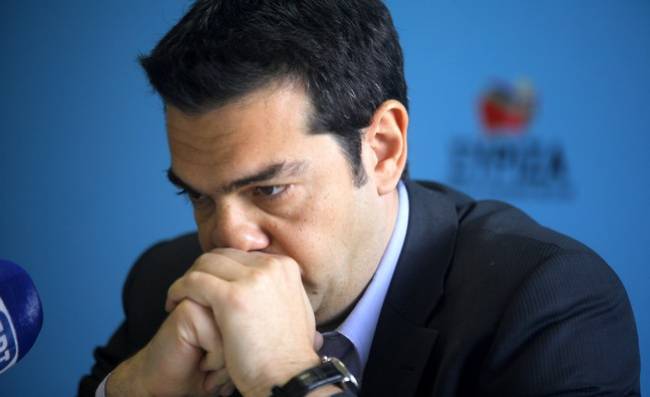 Athens, May 22, 2015/ Independent Balkan News Agency
By Zacharias Petrou
Prime Minister Alexis Tsipras arrived in Riga Thursday for a European Union leaders' meeting on the sidelines of which he is scheduled to hold talks with German Chancellor Angela Merkel and French President Francois Hollande.
"The discussions focussed on the will to reach an agreement on the current programme. They agreed on the need for the Greek authorities to continue their work with the three institutions," German and French officials said.
Alexis Tsipras "talked about a long-term deal which would bring the prospect of an exit from the crisis" Reuters reported, quoting a Greek official.
Talks will continue as Tsipras will meet European Commission President Jean-Claude Juncker Friday afternoon.
Despite Greece not being on the official agenda, the Greek side is hoping that these meetings will give the government a political go-ahead for a deal with creditors in the technical talks which are ongoing.
Tsipras reportedly desires to make sure that an agreement with creditors reflects there has been change in the policies applied up until today in Greece. The Prime Minister also intends to stress the need for Greece's debt to be restructured. Effectively, Tsipras seeks a single, comprehensive agreement addressing the issues of debt, growth, reforms and fiscal adjustment that will unlock much-needed bailout money for Greece.
Developments so far point to some improvement in talks with creditors and Athens sounds increasingly optimistic. However, a Greek breakthrough may not be as imminent as Greek government officials maintain lately.
In an interview on Thursday, Germany's finance minister Wolfgang Schaeuble stuck to his position that progress between officials from Greece and its creditors remains slow.
"What I know from discussions with the three institutions does not back up the optimism arising from announcements from Athens. There is not yet any substance to the mere announcement that we are closer to an agreement. This is still within the realms of atmosphere" Schaeuble said.
Earlier on Thursday German newspaper Sueddeutsche Zeitung reported European Finance ministers are contemplating an extension of Greece's current bailout program until the autumn. The bailout deal expires June 30.
Sueddeutsche Zeitung reports the plan depends on whether or not Germany will be willing to accept it. In order for it to be decided, Athens will be required to implement austerity and reform measures (including a VAT hike) worth 5 billion euros. In exchange, bailout funds – nearly 4 billion euros – will be disbursed to Greece in June.
A high-ranking Finance ministry official told the press that the story is pure fiction and that the government is working on a deal which will be reached in June and allow Greece to begin a new era. The European Commission refused to comment on the report. "Our focus is to conclude the current review as fast as possible", it said.
"The main scenario is to complete the current bailout program which runs until end of June," Commission Vice President Vladis Dombrovskis said.