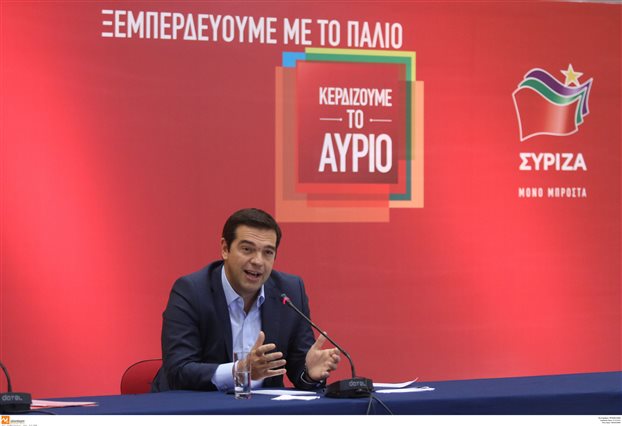 Athens, September 14, 2015/ Independent Balkan News Agency
By Spiros Sideris
It has become evident that Alexis Tsipras' last hand in the election… table will be the issue of corruption and tax evasion.
The president of SYRIZA appears determined to focus on this issue, especially after the deposition of the "thief" of Lagarde list, Herve Falciani, but also after his statements last night in the Greek public television (ERT) that he will shed light on the case.
Indeed, in the conflict between the old and the new, Tsipras takes great care to integrate the new revelation – the protection of those who evade taxes – identifying this cover up with the New Democracy, using the Papastavrou case as an example.
Papastaurou was the consultant on secrets of former Prime Minister and former president of New Democracy Antonis Samaras, who gave a deposition for two felonies, after being summoned by the assistant financial prosecutor who is investigating his possible involvement in an HSBC account containing about EUR 5.5 million, discovered in the Lagarde list. According to information, it is a joint account that had Papastaurou had with his father, who has died, but also with his mother who was also summoned to testify as a suspect for the same offenses.
The close associate of former prime minister reportedly maintains that he was managing the account on behalf of the Greek-Israeli businessman Sabby Mionis, and that the funds that were found in it belong to him. However, his father appears as the second proxy in the account and his mother the third.
Both in his speech at Keratsini, and in an interview given to ERT, the president of SYRIZA equated Vangelis Meimarakis and ND with the governance of Samaras, whose right hand was Stavros Papastaurou, investigated by Justice for Lagarde list.
Indeed, he raised the question to citizens, "who can tackle corruption and the intertwining? A government of the Left, who gave ample samples by making celebrities pay their due, or the a ND-led government, which is stalling?"