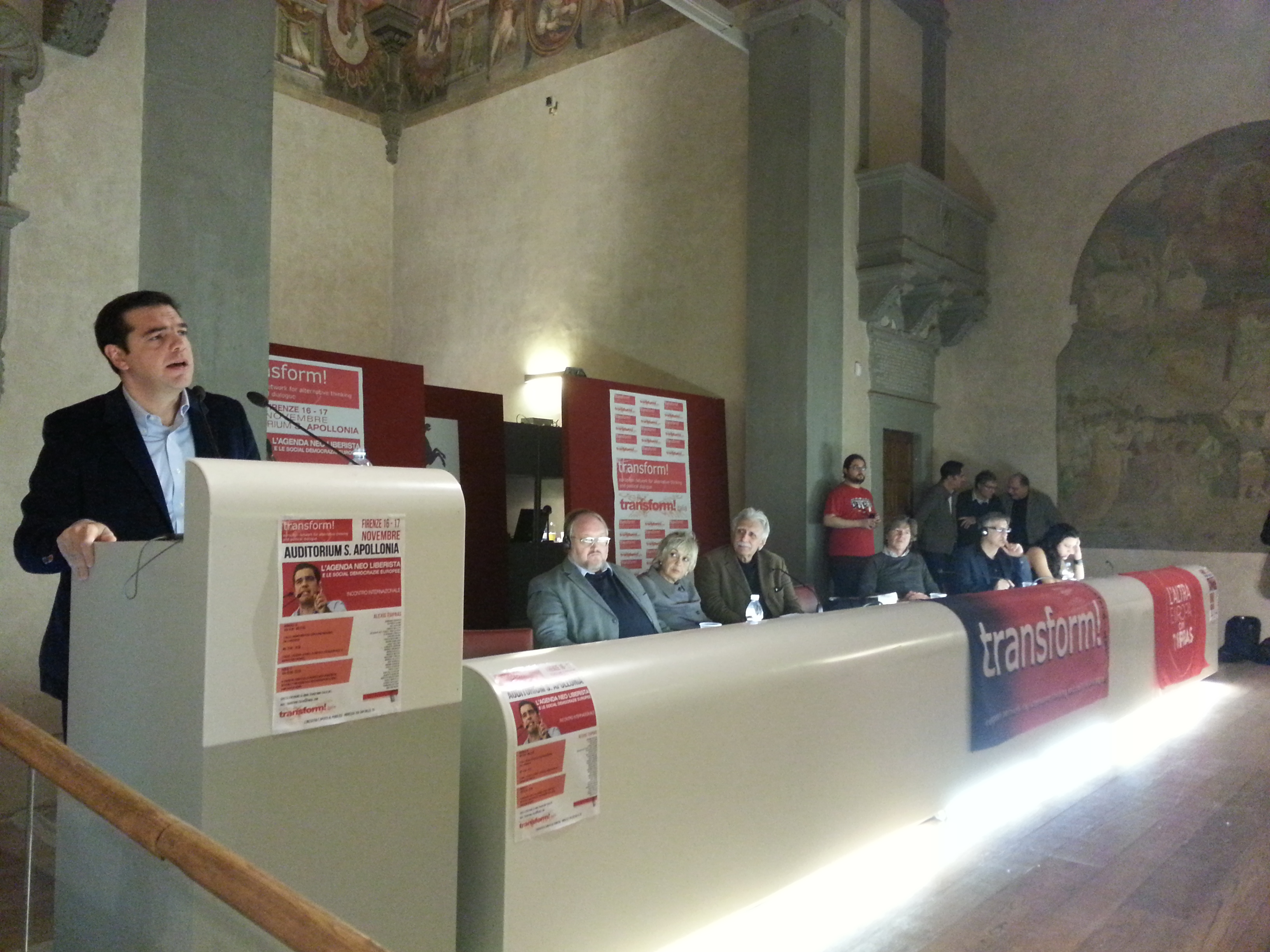 By Spiros Sideris – Athens
An attack on PASOK and personally to Evangelos Venizelos unleashed Alexis Tsipras, speaking in Florence at the european workshop of politicians and intellectuals titled «Transform Europe».
"For european social democracy to exist, it should be transformed", said the president of SYRIZA and added:
"Otherwise, it will turn into a small supplementary power of the neoliberal right. Just as is the case in Greece with the PASOK of Venizelos; the historical and political obsolescence of which, only as an example to be avoided should serve to European social democrats".
The president of SYRIZA intervening in a debate on "austerity, the Troika the crisis of social democracies and the relationship with the unions", said that the current crisis of social democracy is identical to Europe's crisis, stressing among other things that:
"As long as today's social democracy responds to challenges with the conservative reflexes of the nineties, it will loses pace with history".
The leader of the Greek main opposition stressed that a possible governance of Greece by SYRIZA will act as an incentive for the 'reorientation of the progressive forces in the European South".
"Greece is already on the threshold of a historic political change. Soon SYRIZA would have to take the governance of the country. In this context, starting now, we seek the cooperation of governments, but also political and social forces, starting from the European South", he said.
"Such a cooperation", he continued, "will build on the positive momentum that will grow with the victory of SYRIZA. The historic intersection in Europe, with a government of the Left in Greece will rouse a wind of hope and subversion throughout the European South. It will mobilise the forces of progress and social cohesion throughout Europe".
Tsipras spoke of the ideology of austerity that is choking Europe and referred to the party's proposals for a change of the course of the EU.
Alexis Tsipras is developing into a leader of the European Left, creating and expanding SYRIZA's alliances in Europe, causing a headache in the status quo that sees his influence and power across the EU steadily growing.