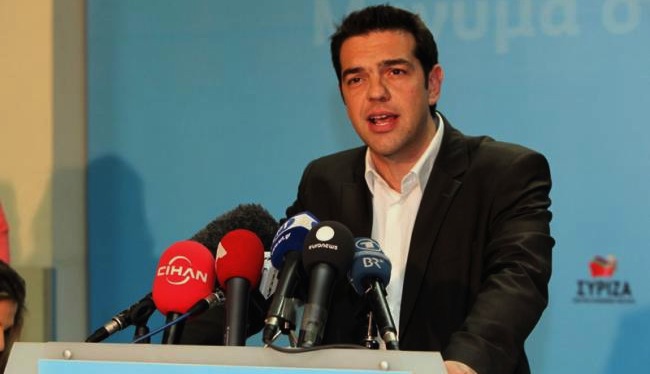 By Lefteris Yallouros – Athens
In what is expected to be an interesting week in Parliament as the House discusses a vote of confidence towards the government, main opposition SYRIZA party leader Alexis Tsipras choses to go all out attack on the Samaras administration and the PM himself.
SYRIZA has geared up for the possibility of a snap election and plans to go on the offensive in order to be prepared for such an event and not be caught out by the coalition government.
Speaking at the annual meeting of the Hellenic Association of Entrepreneurs, Alexis Tsipras attempted to build his leadership profile by appealing to business owners and alleviate fears that a SYRIZA government will tax profit making companies heavily.
Tsipras also took the opportunity to launch an attack against Samaras, setting the tone that his party will take during the three-day parliamentary discussion in the run up to Friday's vote of confidence.
He was particularly critical of the draft budget table in parliament on Monday. "This budget will be the last act according to the Memorandum road-map, not because the Memorandum will end under the Samaras government but because soon the same Samaras government will leave" he said.
Tsipras attacked the government for announcing a 30% reduction in a solidarity tax after it had increased property taxes by 1471% since March 2011, according to his estimates.
The main opposition leader also put a positive twist in his speech by describing his plan to restart the economy. "We will support healthy business activity and for that we will battle corruption" he said. Additionally the SYRIZA leader pledged the adoption of measures to boost competitiveness, fight cartels and reduce prices of every day products.
Explaining his party's plan to tackle non-performing loans, Tsipras promised debt write offs for those with a proven inability to pay.
Specifically, Tsipras said "there will be a special department for outstanding business loans, the handling of which is an urgent precondition for the productive reconstruction of the country. The 'red loans' of SMEs will fall under the 'new write-off'. A loan, in other words, will be broken into two parts: into that which the borrower can pay off and another portion which will be frozen for five or ten years, depending on the circumstance, without being written off from the bank's portfolio, until the financial situation of the borrower improves. And bank debts of those who have an objective inability to repay will be written off."