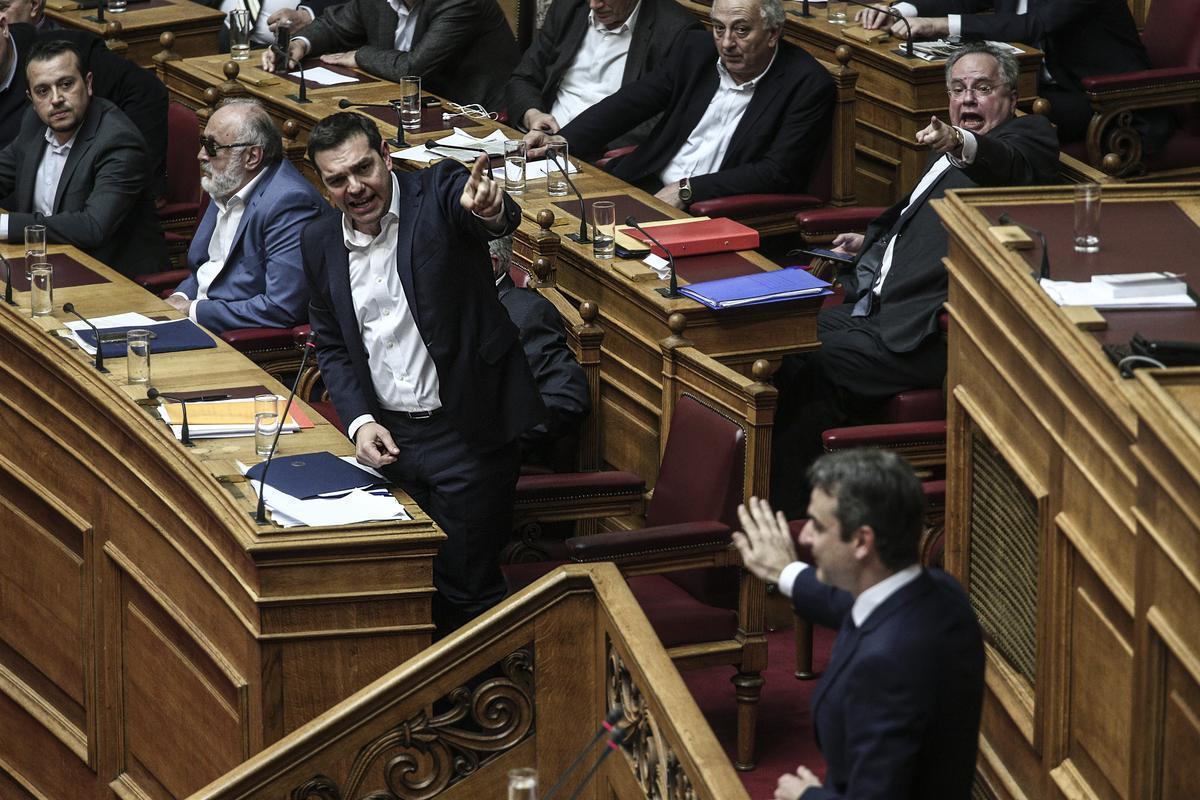 The political clash right after the Easter holidays is expected to be heated, with Tsipras and Mitsotakis having given an appointment in Parliament, just weeks before the European and local elections.
Tsipras challenges Mitsotakis to a public debate
Speaking in the presentation of the SYRIZA candidates for European elections, Alexis Tsipras, called the leader of New Democracy on a television Debate, "without notes, without autoque, for the economy, for Europe, for the national issues". "I hope this time he will not to shy away from face to face confrontation", the prime minister said.
The refusal of ND for a televised public debate between Tsipras and Mitsotakis made known the press spokesman of ND. "When Alexis Tsipras calls for national elections, we will go to as many debates he wants", Sofia Zacharakis said. It is noted that Mr. Mitsotakis had also responded negatively to the Prime Minister's proposal for a debate on the Prespes Agreement before its vote.
Mitsotakis answers with a vote of disbelief against a minister instead of a debate
A short time later, Kyriakos Mitsotakis announced that he would have a debate on a motion of mistrust against Deputy Health Minister Pavlos Polakis.
"Did not want a debate Mr. Tsipras? You will have a debate in the House for Mr Polakis", the head of the ND said in parliament, on the basis of what the deputy health minister said about the nominated ND MEP, Kybouropoulos. If a motion of mistrust is filed for a member of the government, it will automatically be turned to a vote of confidence to discuss everything, not just Polakis, Tsipras said later in the House, speaking of an attempt to cause a distraction.
The government accuses Mitsotakis of attempting a diversion
"Mitsotakis wants to discuss whether Polakis is rude, not for the allowances you want to abolish, not for the Christmas Gift you want to abolish, not for the economy that emerges from the crisis, not for the sea-loans that you want to bury", a Maximos Mansion statement commented on Mitsotakis' recent statements against Christmas bonuses. As was pointed out by the leader of the New Democracy in an interview, he did not speak of the abolition of the Christmas gift, but of distributing the dividend from the excess primary surplus and against the benefits policy.
The publication of the deputy minister that caused reactions
The 35-year-old psychiatrist with serious motor problems has posted in Facebook that he does not claim "bonuses and favors but equal opportunities". Polakis replied by publishing the Gazette of the appointment of St. Kympouropoulos at a public hospital, using a beneficial provision for people with disabilities. Polakis's post has brought strong reactions from ND, KINAL and members of SYRIZA, with himself claiming that he made a political critique, denouncing ND for distortion.
"He does not do himself justice", the SYRIZA MP and former Minister of Education N. Filis said in Parliament, noting that SYRIZA's democratic ethos is not represented by Polakis's statement. He even said that he (Polakis) will find a way to remedy this unlucky statement./ibna