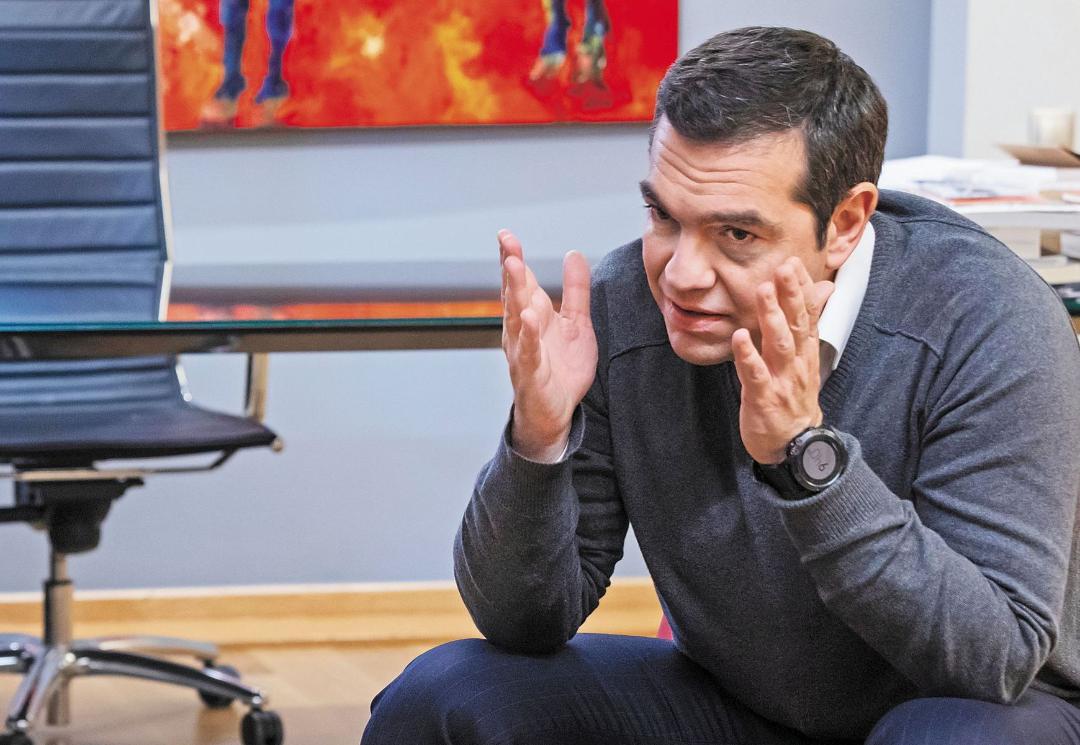 Greek Prime Minister Kyriakos Mitsotakis will have a meeting vie teleconference in the afternoon with main opposition SYRIZA leader, at the initiative of Alexis Tsipras, in order to be briefed on developments on the coronavirus pandemic and for the main opposition leader to make suggestions that would help with the crisis. The two politicians will have a teleconference, in order to reinforce the message "We stay at home". At 19:00, Mitsotakis will also speak with president of KINAL, Fofi Gennimata, followed by contact with other political leaders.
Yesterday, Al. Tsipras had a three-hour conference call with his associates and SYRIZA shadow minister, after which a statement was issued with the package of measures he proposes be taken immediately, stressing the need for "immediate relaxation of budgetary constraints and a brave public intervention for boosting businesses and employees.
What Greece should ask the Eurogroup
In view of the Eurogroup meeting, SYRIZA calls on the Government to request:
All spending on coronavirus disease to not count toward the goals of the program. "With very modest calculations, an 'injection' of at least 1% of GDP, that is, about 2 billion, will be needed if the crisis ends relatively soon", says the opposition.
Secondly, the surplus target – after excluding all coronavirus disease spending – to be reduced to 2% starting this year, subject to further reduction if the crisis continues.
Thirdly, immediate EU financial support measures with amendment of the European Solidarity Fund (EUSF) Regulation, to cover pandemics, as well as an increase in fund resources.
The aim is to significantly strengthen the public health system by supplying the necessary equipment and by immediately announcing 4000 permanent posts. Also, the state should cover all wage costs for closed companies. Employees' salaries must be paid in full and there must be no redundancies.
At the same time, a one-off allowance should be given to low-income households to cover emergencies, while an extra allowance should be given to all self-employed professionals, in addition to providing a voucher for childcare services for parents whose work is such that they cannot stay at home.
What will Alexis Tsipras ask from Kyrioakos Mitsotakis
At the same time, the president of SYRIZA is expected to reiterate to Mr. Mitsotakis the demands for extending the protection of primary home, to suspend payment of all tax liabilities for as long as businesses remain closed, as well as an "extremely brave" liquidity program in the real economy.
Tsipras-Ieronymos Communication: Church Helps Restrict Coronavirus Spread
It is noted that Al. Tsipras contacted Archbishop Hieronymos a few hours ago, on the background of the new meeting of the Holy Synod. According to a SYRIZA announcement, the former prime minister encouraged the Archbishop to take initiatives so that the Church of Greece "contributes with its conduct and work in the common effort of all Greek society to limit the spread of coronavirus".
According to sources from SYRIZA, Archbishop Hieronymus appeared deeply concerned, but also determined to assume the responsibility that he believed however was the State's to assume long ago; that is, to announce the suspension of all religious services, not just those of Orthodox churches. It is recalled that the non-suspension of the ecclesiastical function and the Divine Communion has caused strong reactions./ibna