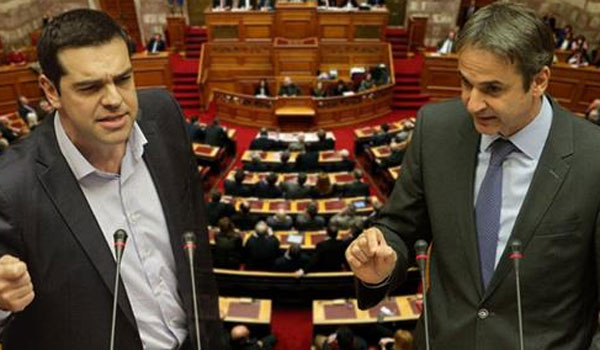 Speaking in Greek parliament on Wednesday, Prime Minister Alexis Tsipras dismissed calls by main opposition leader Kyriacos Mitsotakis for a snap election.
During a discussion on the findings of the investigation by a parliamentary committee regarding the legitimacy of loans granted to political parties and media in recent years, Tsipras said calls for a general election before the program review has concluded are either "reckless" or "useful idiocy".
The PM – who is being under immense pressure by Greece's creditors to legislate extra austerity measures imminently – launched a scathing attack on the main opposition. He said ND leader Mitsotakis is reproducing the propaganda of those who are pressuring the country with irrational demands.
"You want elections in order to deliver the people and the country as prey in the hands of the most extreme of the creditors. We will not do you this favor" Tsipras charged.
He went on to say that the review of the bailout program will close "without concessions on issues of principle", adding that the proposals put forth by the International Monetary Fund (IMF) especially have no democratic or constitutional value or reason.
Addressing the House, the conservative party leader, Kyriacos Mitsotakis accused the PM of being populist and trying to stop his downfall via favoritism and ostensibly fighting corruption.
"Distortion of reality is on the agenda" on a daily basis, Mitsotakis quipped. "Character assassination and paid trolls are your great specialty" he added.
Much of the debate on the bank loans taken out by political parties and media businesses veered off topic as MPs mostly focused their speeches on developments in the economy and the risk of dropping out of the Eurozone.
Parliament president Nikos Voutsis ruled out holding an official parliamentary debate on the country's membership of the European single currency. A debate on Grexit "is out of the question," Voutsis said, adding that he thought it "highly unlikely that people flirting with Grexit would come out on top".
Earlier this week, an opinion poll by Metron Analysis showed 64 percent of respondents favored Eurozone membership while 31 percent preferred a national currency./ΙΒΝΑ