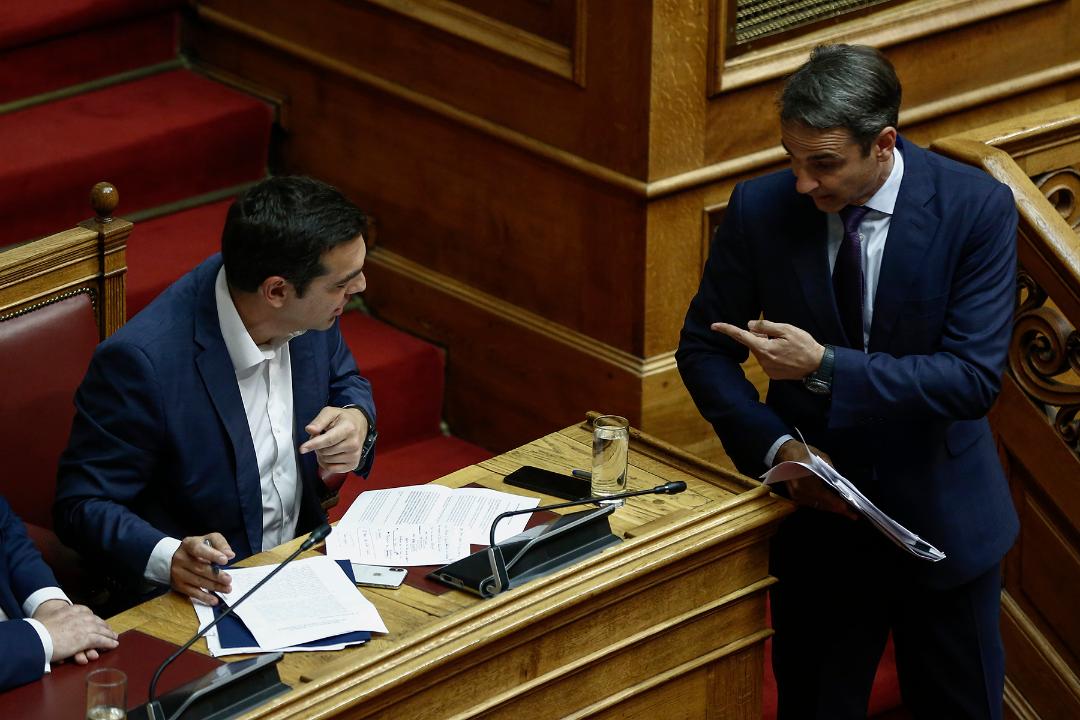 Tomorrow at 14:30 Greek MPs will vote on the Prespes Agreement in the House, as decided by the parliament's committee of presidents on Thursday, in order to allow time for all MPs who have registered to address parliament to do so.
Tsipras and Mitsotakis cross their swords tonight
On Thursday evening, Prime Minister Alexis Tsipras and main opposition New Democracy party leader Kyriacos Mitsotakis will address the House, going head to head as political tensions reach the boiling point. Both former Foreign Minister Nikos Kotzias and PM Tsipras will highlight the details of the Prespes Agreement, in an effort to counter and disprove all of the opposition's arguments in the debate.
In addition, the Greek Prime Minister will slam the stance of ND, which refrained from condemning the far-right individuals who tried to raid the House of parliament and those who issued threats to supporters of the Prespes deal.
On his part, Kyriakos Mitsotakis will repeat his claim that the Greek government acceded the "Macedonian language and ethnicity to Skopje", while he will also personally attack Alexis Tsipras and Panos Kammenos who did not quit the government sooner, so as to block the Agreement from coming to parliament. It is noted that the ND leader decided not to table a censure motion.
Intervention by Kostas Karamanlis
Meanwhile, former PM Costas Karamanlis – who had participated in the NATO summit in Bucharest in 2008 denying FYROM's accession to NATO – issued a written statement today.
The ND lawmaker and former premier defended the policy of his administration which led to the resolution of the Bucharest summit which, as he stressed, "offered a very effective negotiating advantage to our country, which unfortunately was never used as it should have been used".
He noted that "the whole negotiation was carried out in an unjustifiable hurry and when, obviously, settling the issue is a matter of urgency for others, and certainly not Greece". In conclusion, the former PM called on the government to respect the sensitivity and listen to the legitimate concerns of a large majority of citizens. "It is not permissible in national issues of such importance to arrive at such toxicity, which favors a divisive climate", he noted among other things.
Alexis Tsipras: The attempted intimidation will not be tolerated
While yet another rally against the agreement is staged in Athens this evening, threats levelled at MPs continue to come to light. In fact, on Tuesday night, SYRIZA MP Theodora Tzakri was attacked by unknown assailants who threw Molotov cocktail bombs at her home in Yannitsa, northern Greece. Alexis Tsipras called on Kyriacos Mitsotakis and all political parties to condemn the incident "clearly". The PM stressed that "attempted intimidation will not be tolerated. Democracy in our country is strong and will succeed"./IBNA