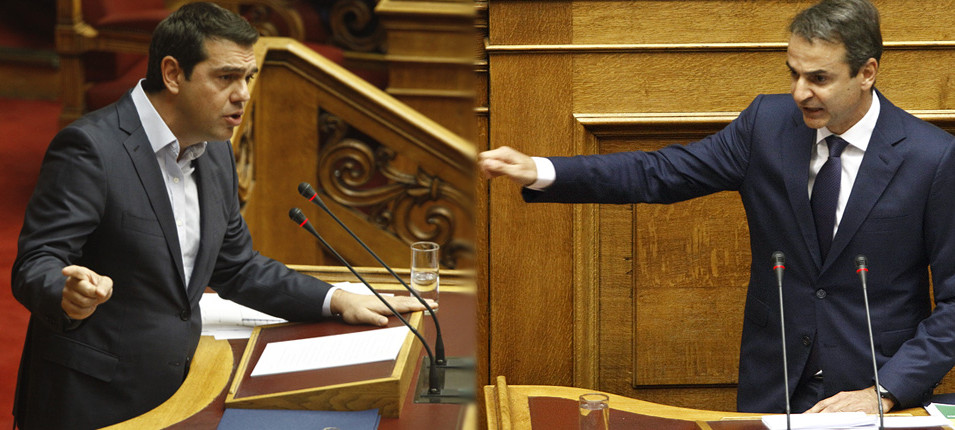 All eyes are on tonight's Parliamentary session, awaiting the Tsipra-Mitsotakis clash, on the start of the three-day process for the vote of confidence in the Government.
The debate comes in the wake of the announcements of a new large package of permanent positive measures, announced yesterday by Alexis Tsipras and the government's economic staff. It is noted that the package of positive measures, including tax relief and a permanent 13th pension with income criteria, was presented today to the European institutions.
The permanent measures, coupled with the creation of a special fund, to which 1% of GDP is allocated until 2022 – allowing for the budgets to target surpluses of 2.5% rather than 3.5% – are part of what Tsipras and Tsakalotos call the "New Economic Policy" in the post-memorandum period.
Although the New Democracy speak of a "distraction" and "handouts" in light of the European elections, stating however that they will vote for the package of measures, there are some members of the main opposition who express their concerns, even saying that they were taken by surprise. Besides, according to opposition press reports in Greece, Tsipras deprives Mitsotakis of an important space in the announcements he himself has made, especially those regarding the relief of tax rates.
From SYRIZA, it is emphasized that KMitsotakis "is falling into the trap he has set himself", stressing that his choice to cause a parliamentary debate regarding the Deputy Minister of Health, which was transformed by the Prime Minister into a vote of confidence, will force the leader of the ND to clash with Tsipras and talk about his "neo-liberal and antisocial proposals".
Manfred Weber's statements, which Mitsotakis supports openly and actively, added fuel to the flames. "When Tsipras makes irresponsible economic decisions, the people of the rest of Europe should not pay for the consequences. This is why we are against a European insurance for the unemployed", the European People's Party nominee for President of the Commission wrote via Twitter.
"ND say they will vote for them (measures), while at the same time they vote for Weber. The epitome of political disreputability and fraud", stated SYRIZA's secretary, with the government pointing out that ND will proceed with the reversal of the positive measures if they win the elections./ibna