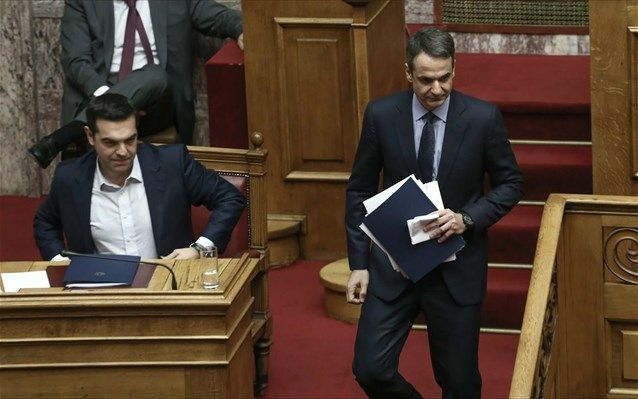 Prime Minister Alexis Tsipras and main opposition New Democracy party leader Kyriacos Mitsotakis clashed in parliament on Tuesday, during a debate of draft legislation introduced by the government to abolish a previous bill that would slash pensions in January 2019.
Avoiding fresh pension cuts has been a key point of the government's narrative in recent months and a strategic goal ahead of next year's general election. Additionally, the government has flagged a series of "positive measures" to be implemented imminently with the aim of boosting those on lower incomes.
Prime Minister Tsipras dismissed criticism by the opposition that the measures implemented are a "gift" to SYRIZA's core supporters and that unnecessary appointments are being made to the State sector. In fact, he called on the opposition parties to vote with the coalition government to endorse the positive measures brought to parliament.
The Greek premier launched a scathing attack on Kyriacos Mitsotakis, arguing that the main opposition leader did all he could to discredit the government's efforts to support those hit hardest by the crisis and failed.
"Some refuse to understand that every step we take is clearly planned and insist that we are handing out Christmas gifts. I am talking about the main opposition and its supporters in the media.  It is difficult for me to go into the essence of this absurdity […] it is insulting to citizens that have been deprived of the basis for years. They watched you perform cuts for years. Today it is time they are rewarded for their sacrifices", Tsipras told the House.
Mitsotakis responded by accusing the PM of agreeing with Greece's international partners to trade a name-change deal with neighboring fYROMacedonia with the pension cuts. "In Brussels they are saying that no other Greek Prime Minister has been so easy in negotiations. You have given up everything for power," the center-right politician charged.
He went on to argue that the PM "tricked Greeks with false promises", adding that it was the Tsipras administration that enacted deep pension cuts in the first place. Mitsotakis dubbed the government's economic policy a "big fraud" which has excessive taxation at its core./IBNA