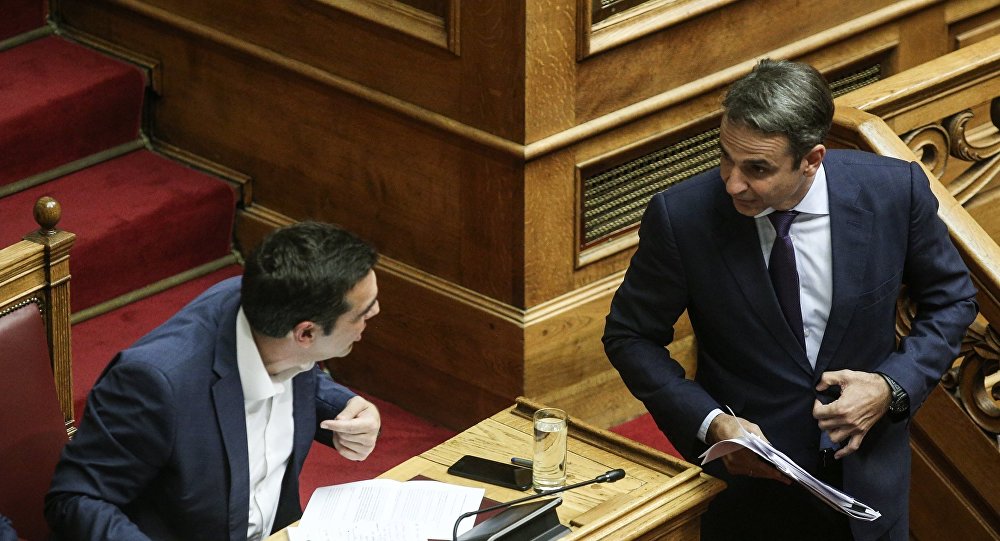 A debate in Greek parliament over the vote of confidence requested by the Tsipras administration kicked off on Wednesday night; it will culminate in a vote on Friday.
Prime Minister Alexis Tsipras and main opposition party leader Kyriacos Mitsotakis went head to head in the House, fiercely clashing over a wide range of issues including the economy, corruption and European elections. Amid a very tense climate, the two leaders launched fierce personal attacks and accusations against each other.
Addressing the House, Prime Minister Alexis Tsipras asked MPs to support his government in the vote of confidence, thus allowing it to implement the set of relief measures presented in a press conference on Tuesday. The Greek premier extensively referred to the fresh relief package which he said will "begin to put right the injustices of the past", while predicting that New Democracy (ND) "will be forced to vote in favor of the government's measures one by one". "Our plan does not consist of benefits, tricks and gifts", Tsipras argued.
"I want to ask for a vote of confidence in our plan [for the country] and a vote of condemnation of the policies of the IMF. It is time for the Greek people to judge us based on our actions […] I am seeking a vote of confidence in the recovery plan for the country's economy in the next four years", the PM stated.
He went on to launch a scathing attack on the main opposition, arguing that Kyriacos Mitsotakis is a proponent of the IMF-sponsored measures and will adopt devastating neo-liberal policies if he comes to power. "Why are you hiding, why are you turning down our offer for a televised debate", he asked Kyriacos Mitsotakis. "I've been in politics for 11 years […] I have not become rich […] Mr. Mitsotakis is unfit to accuse me of being close to the elite or deriving from a political family".
In reference to New Democracy's censure motion against Alternate Health Minister Pavlos Polakis because of his attack on New Democracy MEP Stelios Kymbouropoulos, Tsipras said he respected the latter, adding that he treats all people with disability with utmost respect.
In turn, main opposition leader Kyriacos Mitsotakis personally attacked the Prime Minister, touching upon his alleged ties to business interests.
Mitsotakis criticized PM Tsipras for providing cover for Alternate Health Minister Pavlos Polakis, after the latter suggested that Stelios Kymbouropoulos had used affirmative action laws to get a public sector job. Mitsotakis stressed that Tsipras is defending and protecting the Alternate Health Minister's vulgarity and fascism. "Tsipras and Polakis are one and the same thing", the ND chief said.
Mitsotakis told MPs that their vote in this confidence debate will respond to the question: 'Are you with Tsipras and Polakis, or with the majority of Greeks?'
Commenting on the government's economic record Mitsotakis said Tsipras's economic policy is a "complete lie", while the measures presented yesterday were pointless and a "false gift" since the Greek people have been over-taxed for so many years.
"The Greek people know in what state you will hand over the country […] with the middle class annihilated and the younger generation having fled".
Finally, Kyriacos Mitsotakis argued that the Finance Ministry is cherry-picking New Democracy's economic manifesto, copying proposals and measures from the center-right party's program./ibna