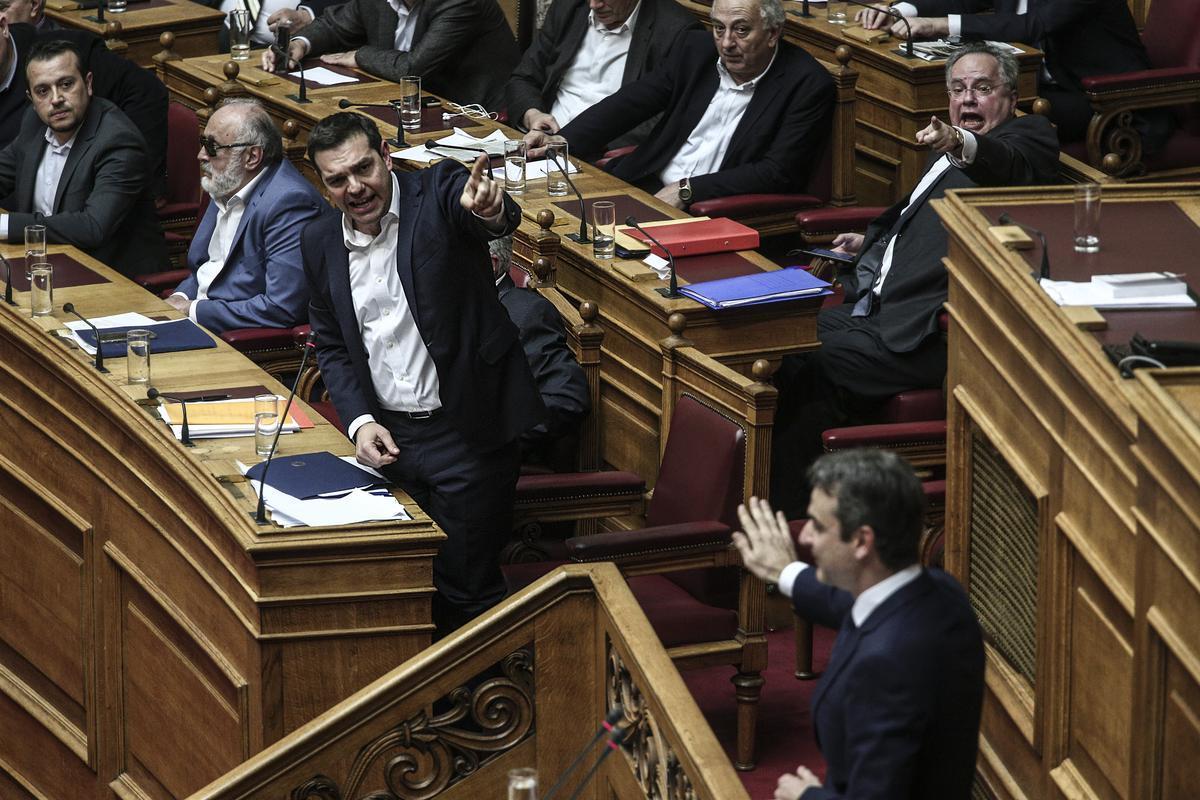 On Wednesday, the three-day talks on the vote of confidence in the government are expected to begin in the Greek Parliament, which will turn into an informal debate between the government and the main opposition, with attention falling on the Tsipras-Mitsotakis "duel".
As the Conference of Presidents has decided, the process will last for three days and will finish with Friday's vote. This will happen automatically, since Kyriakos Mitsotakis has tabled a motion of censure against the Deputy Minister of Health, which, as the Greek Prime Minister has heralded, will immediately turn into a vote of confidence to the government.
With Alexis Tsipras going on tour in Thrace today and tomorrow in Epirus, the pre-election dilemmas are expected to emerge in the upcoming days: "Either with the elites or with the many" is the stake that SYRIZA places, focusing mainly on the economy and the reparation of the injustices of the memorandum on the middle class, whilst N.D. asks for "political change for the recovery of the country".
The government's "weapon": the immediate positive measures and the 120 installments
Meanwhile, next week the bill to regulate the 120 instalments for tax debts and debts to insurance funds that concern 4 million debtors is scheduled to be passed, whilst according to information the tax and benefit package that will exceed 1 billion euros – from the surplus of 4.1% of GDP versus an initial projection of 3.6% of GDP – is being secured. The package concerns both measures that will be legislated and implemented immediately, and measures that will be implemented over a time horizon up to 2022.
With the positive measures that will have a direct impact on millions of citizens (e.g. pension payments and tax cuts) and the citizens' response to SYRIZA's events across Greece as "guide", the government is looking forward to this being reflected in the polls, breaking down N.D.'s narrative of an overwhelming difference based on opinion polls.
ND attacks the government with the income-tax free threshold and questioning the "left moral advantage"
At the same time, Mitsotakis' camp points it's arrows to the deputy health minister, denouncing Tsipras for covering "extreme behaviors", while paying particular attention to the amendment tabled today for the cancelation of the reduction of the income-tax free threshold. At the same time, the president and the executives of N.D. reiterate allegations of the inadequacy of the state apparatus and governmental management during last summer's deadly fires that killed 101 people./ibna