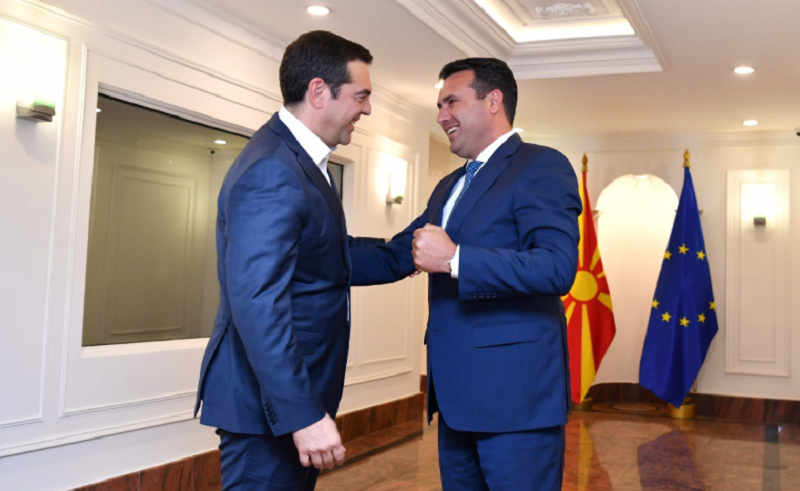 SYRIZA President Alexis Tsipras had a meeting with Prime Minister of North Macedonia Zoran Zaev on Monday afternoon. Tsipras is in Skopje to attend a meeting of the Economist magazine for the North Macedonia.
At the heart of the meeting, which took place in a cordial atmosphere, was the Prespes Agreement, for which Tsipras and Zaev argued that it is an example of peaceful settlement of conflicts in the Balkans and creates prospects for the development and deepening of relations between Greece and North Macedonia.
During their meeting, Tsipras and Zaev stressed that "we have shown that in the Balkans we can tackle nationalism and overcome introversion with a vision for the future", while sending a message to the European Union, calling on it to do the same and greenlight the start of accession negotiations with North Macedonia.
In addition, the president of SYRIZA, in an interview with Skopje's Alsat TV station, described as a "crime" the fact that the name issue had not been resolved for many years.
"The crime was that we could not find a compromise from the start, a solution to the name issue in order to bring the two peoples closer together. We are two neighboring countries, we have nothing to separate; we have a lot that unites us. So it would be a crime if we were given the opportunity after 25 years, and I, along with Zoran instead of seizing that opportunity, to solve the problem, threw it at trash. That would be a crime. And it would be a crime because we were plunging North Macedonia, our neighboring country, into political instability that would trigger destabilizing developments in the wider Balkan region, and we all know how fragile the region is", Tsipras said.
He also said that the negotiations that led to the Prespes Agreement were not an easy task.
"It may be easy for a third party to see it, because many people say 'well you didn't go too far because you only had to come up with a name', but in fact behind the name there were many details that needed to be resolved. Issues related to cultural heritage, which had to do with bilateral relations – a number of difficulties that had to be resolved", SYRIZA's president explained.
Tsipras is scheduled to speak on Tuesday morning at the Economist conference on "The Next Steps to European Integration for the Western Balkans – How the Balkan Landscape is Formed after the Prespes Agreement", with the participation of the Prime Minister of North Macedonia, Zoran Zaev, and former European Parliament President Martin Schulz./ibna