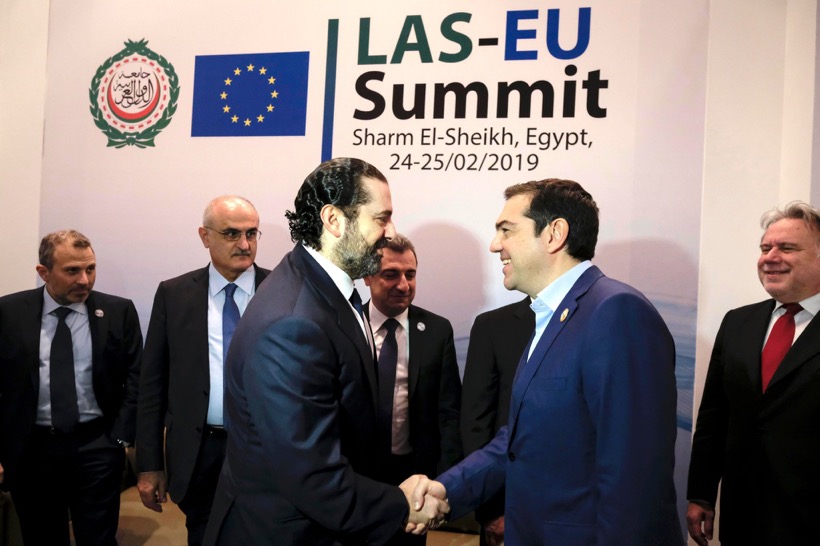 Sharm El-Sheikh correspondence Spiros Sideris
Greek Prime Minister Alexis Tsipras met with Lebanese Prime Minister Saad Hariri on the sidelines of the First European Union (EU) – League of Arab States (LAS) Summit.
The Greek Prime Minister, after congratulating Saad Hariri on his taking up of his duties, stressed the need to strengthen cooperation between the two countries in a highly destabilized region with many problems.
The issue of the economy and the reforms in the two countries was thoroughly discussed, while the two leaders agreed that there is great potential for economic cooperation between the countries.
Saad Hariri has expressed strong interest in attracting Greek investment to Lebanon and highlighted the great opportunities provided by the implementation of the capital investment program, aimed at upgrading Lebanese infrastructure.
The Greek Prime Minister underlined the importance of tripartite cooperation between Greece, Cyprus and Lebanon, which is being promoted at the forthcoming meeting of Foreign Ministers, where business meetings could also take place.
Also, the forthcoming visit of the President of the Hellenic Republic, Prokopis Pavlopoulos, will give a boost to bilateral relations"./IBNA