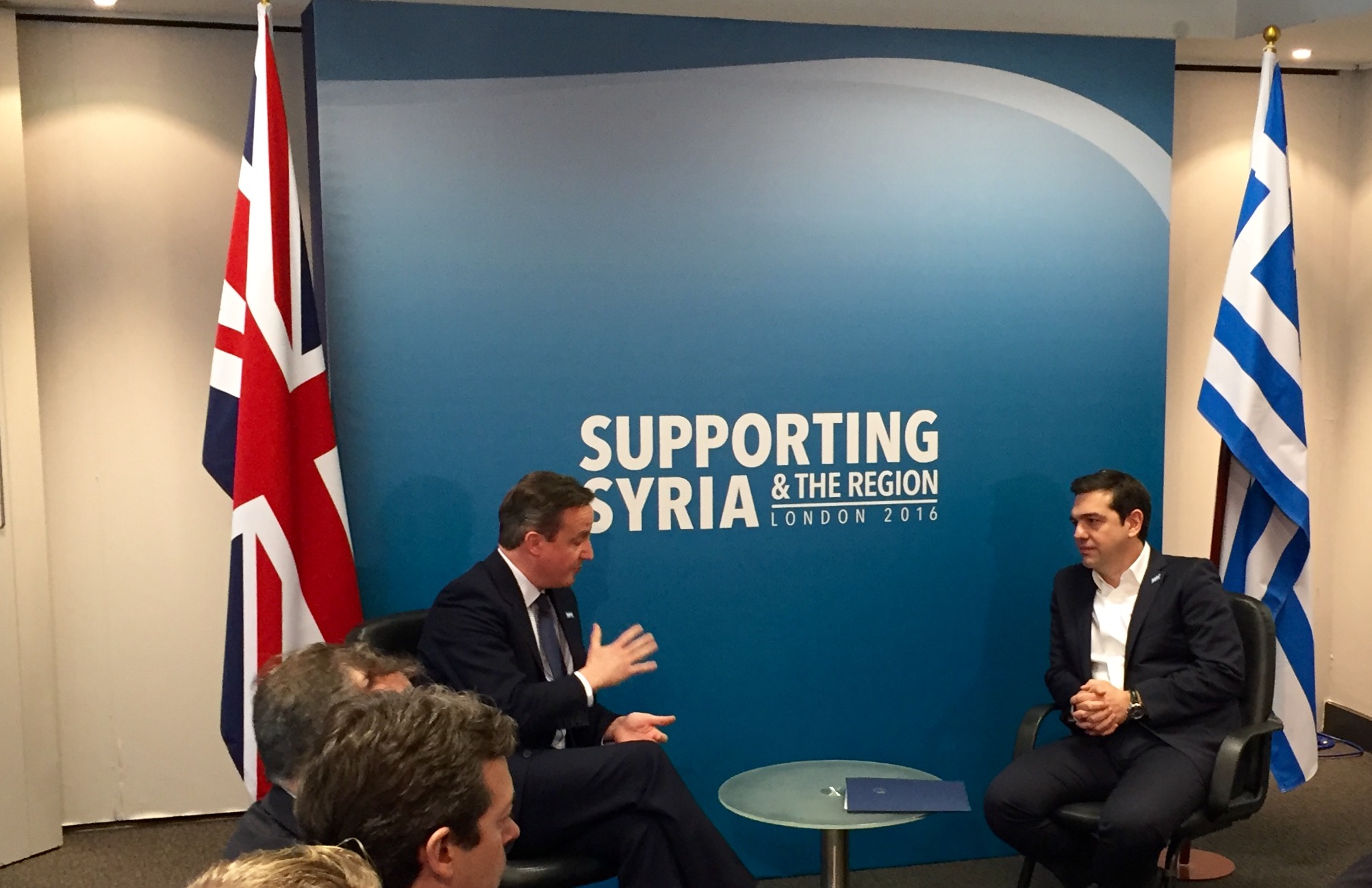 London, February 4, 2016/Independent Balkan News Agency
By Spiros Sideris
The refugee crisis and the economy dominated the meeting Alexis Tsipras with Chancellor Merkel on the sidelines of a donors' conference for Syria, which is taking place in London.
The Greek PM told the Chancellor that disagreements between institutions should not cause delays to the completion of the evaluation, noting a number of positive developments in the economy, which point the way to development.
In particular, the Prime Minister pointed out among other things the successful results in the effort to increase tax revenue and the absorption of EU funds, the creation of new jobs and the successful recapitalisation of banks, and noted that the proposal for the social security reform is in the framework of the Agreement with the partners.
According to information, A. Tsipras expressed the annoyance of the Greek government for the delay in filing counterproposals on social security, despite the fact that institutions have the proposals of the Greek side in their hands since the beginning of the year.
Α. Tsipras added that no one can claim that there is a trust issue towards the Greek government.
Α. Merkel reportedly agreed that pending issues with the Greek economy should be arranged as soon as possible, while reportedly asked the Prime Minister about the internal situation in the country, such as, inter alia, its opinion on the new leader of the main opposition Kyriakos Mitsotakis.
As regards the refugee crisis, the German Chancellor called for the implementation of the commitments of the Greek government, in regard with the operation of hotspots, by the next session of the EU summit on February 18, with the Greek side providing assurance that all necessary actions have been launched.
Greek Prime Minister also raised the need for the full implementation of the EU-Turkey Agreement, as well as the resettlement plan.
Tsipras – Cameron meeting
In the meeting with British Prime Minister David Cameron, A. Tsipras heard his counterpart expressing London's support to the Greek efforts for the refugee flows management. Meanwhile, D. Cameron pledged to send to Greece an echelon of the British Ministry of Internal Affairs, which is handling successfully the return of Pakistani refugees, in addition to the provision of personnel and equipment from the British Coastguard to better guarding of the Greek sea border.
Α. Tsipras announced Greece's contribution to meeting the needs of refugees from Syria with a nominal amount of EUR 300,000.
Earlier, the Greek PM in his placement at the International Donors' Conference «Supporting Syria and the Region», had requited the criticism against Athens in the management of the refugee/immigrant crisis, leaving spikes for the policy of other member-states on the matter.
Among other things, A. Tsipras insisted on the need for a strong resettlement programme in Europe and in other countries, a long-term strategic approach, "focused on the effective and humane management of the refugee flows" and the intensification of the political settlement of the Syrian conflict.