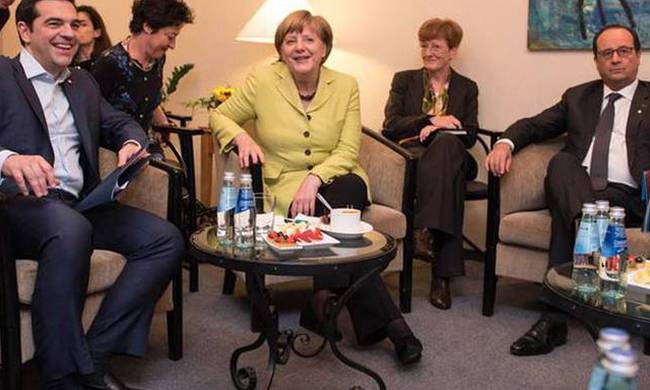 Athens, June 11, 2015/ Independent Balkan News Agency
By Zacharias Petrou
The leaders of Germany, France and Greece held a meeting Wednesday night in Brussels – on the sidelines of an EU-Latin America Summit – to discuss the measures the Greek government must take to receive bailout funds.
The meeting comes amid rumours that Germany might be prepared to give up some ground in the ongoing negotiations.
Greece is seeking a nine-month bailout extension, according to Bloomberg, citing an official on the information. According to the official, Athens considers the extension necessary now in order to win more time to come up with a comprehensive reform plan after five months of fruitless talks. It would also give the economy a chance to get back on track and eliminate uncertainty.
According to reports in the international press, Angela Merkel is prepared to accept a much-reduced reform programme, slimmed down to just one or two areas as part of an initial package, to salvage a deal with Greece and prevent it exiting the eurozone.
Bloomberg said it spoke to at least two German officials close to the bailout talks who described the compromise deal as a possible way to end the impasse between the radical leftist Greek government and its creditors.
Earlier, A. Merkel had raised hopes of progress by telling reporters "Where there's a will, there's a way".
Eurogroup president Jeroen Dijsselbloem also suggested a deal could be reached by the end of next week, if Greece compromises. Dijsselbloem hopes it could be signed off by June 18, when the eurogroup next meets.
S&P lowers Greece's credit rating
Standard & Poor's announced it has cut Greece's credit rating by one level, to CCC from CCC+. That's just two notches above default. S&P said they've downgraded Greece because they don't consider a deal likely in the next few days, and any arrangement might not last beyond September.
S&P added that Greece is edging closer to deafult and capital controls being applied within the next twelve months.
"As its liquidity position continues to deteriorate, Greece appears to be prioritizing other spending items over debt servicing," S&P explained. "In our view, without a turnaround in the trajectory of nominal GDP and deep public-sector reform, Greece's debt is unsustainable."
S&P's assessment is bleak and its outlook is officially "negative," which means another rating downgrade could happen within a year.