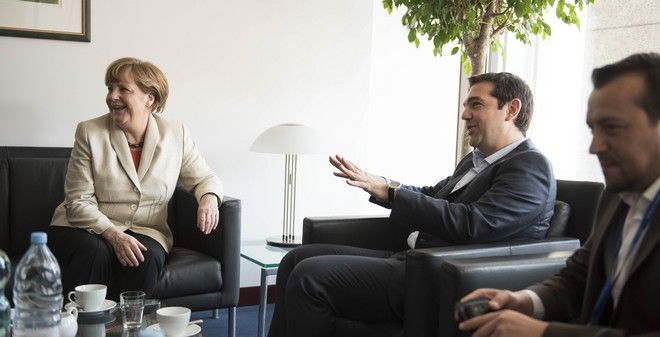 Athens, April 24, 2015/ Independent Balkan News Agency
By Zacharias Petrou
Prime Minister Alexis Tsipras met with German Chancellor Angela Merkel Thursday for about one hour on the sidelines of an EU leaders summit in Brussels on immigration.
Angela Merkel said after the meeting that everything must be done to prevent Greece running out of money before it reaches a deal wth its creditors for the implementation of reforms that will unlock bailout money.
The German Chancellor said talks with Tsipras were constructive but said they agreed to keep the contents of their discussion confidential.
Tsipras told reporters they had noted significant progress had been made in the negotiations and added: "We have covered a large part of the distance." He said he was very optimistic and that they had moved closer to a deal on an economic reform program.
Greek government sources say progress has been made at technical level in recent days and the Tsipras – Merkel meeting is seen as reason for more optimism. Agreement is considered close on the issue of privatizations as well as the need to build much smaller primary surplus in 2015 than originally planned. The Greek side wants a deal to be reached with creditors before the end of April in order to address the very pressing liquidity issue the government is facing. However, with tricky issues still open, such as labor reform, a VAT hike and an overhaul of the social security system (which could lead to pensions being slashed), it is difficult to envisage a deal being reached without a political decision preceding it.
The Eurogroup finance ministers meet in Riga on Friday to review progress in negotiations between Athens and its creditors. Eurogroup President Jeroen Dijsselbloem said on Thursday that a deal is possible by the end of April, and that sub-tranches of a pending bailout installment could be released in such a scenario, but that this would require "serious work."